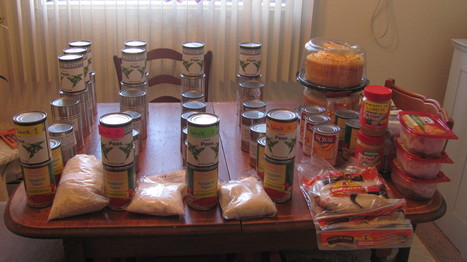 Above: 1 month of food (138lbs) for my family of 4, picked up today from a St. Paul, MN foodshelf. Divided into 4 weeks of suppers = 1 can beans, peas, cup of rice 5 days per week, tomato sauce & rice on weekends, and lunches = 3 packs of sandwich meat, 3 cans of apple sauce, 2 jars of peanut butter, 2 packs of tortillas
by JESSICA ENGLISH
Sean Hannity recently said he has friends who live on rice and beans. You gotta throw some fruits and veggies in, but he maintains a person can "survive" on the stuff. Check out what I received from the foodshelf today, for the month of June, and ask if you're family of four could survive on it, three meals per day for a month.
Maybe you're not surprised that my cupboards aren't overflowing. They are not, but I am thrilled at what we have received, so please don't misunderstand my motivation for this article. I am grateful for the foodshelf, for its staff and volunteers, but obviously this is not enough for 3 healthful meals, for four people, for an entire month.

One can see that our family will need more help to get through the summer. Like many families, I had my children before the economic collapse. Due to summer I have had to drastically cut my minimum wage hours to shifts I can pick up on Saturdays and Sundays, when the kids go to their dad's house.
Fortunately, my application for foodstamps will probably go through by the end of the month. However, there are many millionaires in Washington who fail to understand the needs of the poor during this economic crisis, especially the need to fund the foodstamp program. They cut the foodstamp program to fund military budgets.
I think they do this because many still believe in the ideals that George W. Bush brought to the fore with his "compassionate conservatism" agenda. The basic premise is to give large tax cuts to the rich, and reduce the government roll in providing programs for the poor, with the faith that the rich will fund local city and state charities, who will pick up the slack. What many fail to realize is that monthly TANF payments to families have not risen since 1986, so local charities exist because even with the government programs, the poor need help to survive.
If you weren't into politics in 2000, here is a NY Times article that highlighted the ideas and critics of the Bush policy. Allison Mitchell reported back in June, 2000, regarding Bush's compassionate conservatism ideals, "the 'compassionate conservative' platform Mr. Bush is running on today: tax incentives that he predicts will lead to an explosion of charitable giving; an emphasis on using religious institutions to deal with poverty, drug abuse and other social problems and a pledge to ''usher in the responsibility era,'' to replace the notion that ''if it feels good, do it.''
So, ten years of tax cuts behind us, and cuts to the foodstamp program ahead of us, how is it panning out at your local food pantry? Is the local charity meeting the needs of the 1 out of 2 Americans who are low income or in poverty? How much aid has flooded into your local charities from your local millionaires? Have the poverty rates been driven down by the compassion fof the 1%? Hardly.
George W. Bush had critics, at the time, within his own party, people who recognized the limits of local charities, reporter Allison Mitchell, again back in June 2000, "Arianna Huffington, once an acolyte of the Gingrich revolution who ran an organization with Mr. Olasky to promote such ideas, now counts herself a skeptic.
'How do you take what works and make sure it reaches enough people?' Ms. Huffington asks. 'Can that really be done without the raw power of government appropriations given that the private sector has not been forthcoming?' She said she once thought that if government were scaled back, the private sector would step forward. Instead, she realized 'how much easier it was raising money for the opera or a fashionable museum.'"
Welfare reform passed by Clinton in 1995 mandates that recipients WORK, search for a job, or attend retraining classes 30 hours per week. I can personally attest that even if you are leaving an abusive situation, a recipient must work, or look for work (filling out worksheets) 30 hours per month.
Yet, given Romney's statement about the poor needing to go to work in order to understand dignity, and Gingrich suggesting poor children clean schools so they can learn a work ethic, it seems that no one has informed the Republicans that Welfare to Work recipients are working. Despite high unemployment (due in large part to banking fraud and bailouts) the GOP continues to perpetuate the idea that those who reach out for foodstamps and welfare checks are unwilling to work, are addicted to drugs, or living a hedonistic lifestyle. Lies and misrepresentations that lead state and local governments to waste valuable legislative sessions and tax payer dollars passing measures to drug test those on welfare! Lies and misrepresentations that gain the public's support for needed programs to be cut at a time of high need, while the 1% continues to help themselves and their corporations to designer tax breaks and "subsidy" giveaways diverted from taxpayer dollars meant for the common good.
My answer to the GOP: Where is your compassion? I am working, and I have worked almost every single day this year! I would feel a hell of a lot more dignified if my work was worth more than poverty wages. When will you and your media cronies quit lying about me! I would have even more dignity if I didn't see my government forced to create, then cut, programs to subsidize my poverty wages... poverty wages offered by your corporate donors that maximize their profits by short-shrifting their employees and scooping up more tax breaks and government subsidies than ever before!
Via
Coffee Party USA