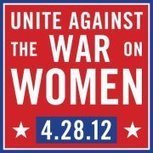 Official Unite Against the War on Women Statement:
All across the country, through legislative proposals, government regulations, and political rhetoric, war is being waged upon women, their bodies, their private interests, and their right to self-determination. This is occurring without, and in spite of, the participation of the same women being affected by these actions, and whose futures, and those of their families, are being unilaterally determined.
In this modern era of limits, people in power are in a race to divide the spoils of power, and the means being used are becoming more and more shortsighted. Saturn has devoured his son, and now looks to his daughters.
Our organization is determined to see that this race to the bottom does not claim the rights and liberties of over one half of the populace. We will not suffer the burdens of those whose ambitions would be fulfilled by the destruction of the human worth of the mothers, sisters and daughters of this great nation.
Enough is enough.
While the logic of the disaffection of the majority of the electorate is impossible to understand, we cannot afford to wait and see how this all works out. This war on women must be resisted, and won, before the toxic effects of the current national conversation become irrevocable reality. We have been denied a seat at the table, but will not be denied our humanity.
Please join us in changing the dialogue and refocusing attention toward the very serious issues this nation faces, and away from the disingenuous and perversely pornographic focus upon the sexual organs of our mothers, sisters and daughters, and their relationship with their physicians and their own bodies.
The issues include:
Reproductive rights
Woman's health issues
Education
Safety and wholesomeness of food supply
Crimes against women and children
Workplace equality
There is a very real and growing non-partisan concern that women are being sacrificed upon the altar of ambition, and we are determined to deny Saturn his second course.
Thank for your help and support. Your mother, and your mother's mother, and all women everywhere would be proud.
Info@UniteWomen.org
Please join us all across the nation as we unite and make our voices heard. April 28th is a day of action and every state is planning an event
Connect on Facebook here.