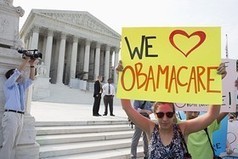 Young Americans may have been among the biggest supporters of Obamacare, but they may also be the least likely to comply with the law.
The architects of health reform say the law will make insurance more affordable and widely available. But in 2014, benefits experts say, the cheapest option for 20-somethings will be to pay the penalty for not buying health insurance, rather than paying for any health insurance at all—that is, provided they don't get sick.
And as more young people do the math, more seem to be deciding the Affordable Care Act isn't such a good deal for them: Support for a national health-care plan dropped nearly 11% among American college freshmen between 2008 to 2012, with under 63% in favor of it today, down from 70%, according to UCLA's annual student survey.
Next year, uninsured Americans must pay a penalty of $95, or 1% of their annual salary if they make more than $9,500 for the year. A person earning $50,000, for example, would pay a $500 penalty if they chose not to enroll in a health insurance plan....
READ MORE: http://www.marketwatch.com/story/young-americans-may-dodge-health-law-2013-06-26?siteid=YAHOOB