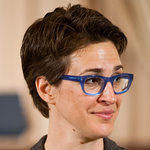 by ALESSANDRA STANLEY (NY Times)
You can agree with everything that Rachel Maddow or Ed Schultz say on MSNBC and still oppose their right to say it.
MSNBC has pumped up its ratings by recasting itself as a left-leaning riposte to Fox News, and that's fine. Fox long ago proved that a lot of viewers like to hear cable anchors echo what they already think; MSNBC is just playing catch-up. Fox is still well ahead, especially during a Republican convention, but on Tuesday, there were times when MSNBC drew significantly more convention viewers than CNN.
That's because MSNBC offers counterprogramming, not coverage. All that arch sarcasm and partisan brio may rev up the cable channel's fans, but it constrains — and stains — NBC News, its corporate sibling, which is still the country's No. 1 source in the evening.