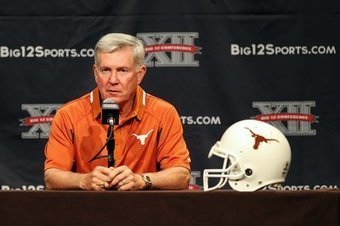 This article was too funny! It literally took me several tries to write this post after reading this article. To say the heat is on for Mack Brown in Austin would be an understatement. The press, boosters and everyone are wearing thin down in the heart of the longhorn state.
The article starts out with a hilarious future fable statement by Mack Brown:
"I want to apologize to all Texas fans in advance," said a visibly-shaken Brown. "66-17 is unacceptable. I'm as disappointed as anybody about how the team will play against Oklahoma on October 12. But you can't look back at next month's loss and torture yourself with 'What ifs?' You have to move on."
The coupe de grace was Brown saying: "Oklahoma will do what they need to win," added Brown. "But we won't."
I have to say the Texas media can really put on a show. Now, lets hope the Sooners do take care of business next month and make this fable a reality.
Photo by: USA TODAY Sports