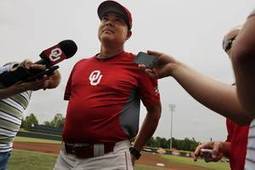 Numerous former OU players have now come out and stated publicly thier happiness that former OU baseball coach Sonny Golloway has left for Auburn. They claim he was two-faced, crooked and alienated former players and standouts from being involved with the program. Golloway has retorted with dissapointment, but doesn't specifically dispute any of their claims.
The surprising thing about this controversy is that it is not just players and former players from Golloway's tenure at OU, but it is many former players from previous eras that have bad things to say about Golloway.
The silence from the administration in regards to these issues speak volumes, as it is becoming more obvious by the day that Coach Golloway leaving Norman is the best things for all involved. It also goes a long way to explaining why Golloway would leave a prestigious baseball program for less successful Auburn.
What do you think about Coach Golloway sudden departure?
Read more at: