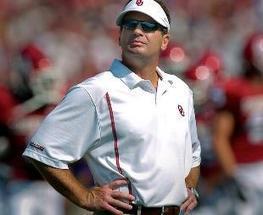 In this Sporting news story on OU's Bob Stoops they discuss how losing three of the four national championship games they have played in since Stoops began at OU in 1999 does satisfy Coach Stoops or his critics. They tdiscuss why he is combative and what drove him to make staff changes this off-season.
One very interesting area of discussion ids how Bob's brothers Mike and mark state that their brother was stung by the criticism by former players after the embarassing loss to texas A&M in the 2012 Cotton Bowl.
This is a long and very interestig article that any Soooner fan should read. It mentions how Bob should become the winningest coach in Sooner history this season and yet there is still something missing. So, this leads to an ending that is especially important as Coach Stoops states adamantly
"I want more; I want the national championship," Stoops said. "I'm not complaining, but I'm not going to apologize for the success we've had here. Now that (winning the Big 12) has become the norm, that isn't good enough. Just a national championship is good enough."
This doesn't sound like a coach that plans on coasting or not having the fire, as some of his critics have claimed. This sounds like a coach with a chip on nhis shoulder and something to prove.