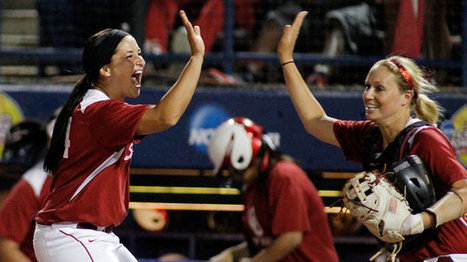 The OU Women's Softball team did what they have done all season and relied on pitching and bats. Also, like many other games during the tournament they have consistently come from behind to take a big lead into the final innings. This team seems to have more than just talent and skills, they also have an unmistakable mystique and strong teamwork that tends to overwhelm their opponents and this was on display last night as they soundly beat Washington. Lauren Chamberlain's solo home run was just another example of this mystique, as it all but ensured a victory against the Huskies.
The Sooners now advance into the WCWS Finals and face Tennessee in a best of three game series starting tonight on ESPN2 at 7Pm CST.
So, Sooner fans let's get out and see them or watch them on ESPN2 and support our Sooner women on the quest for a National Title.
Photo: SoonerSports.com