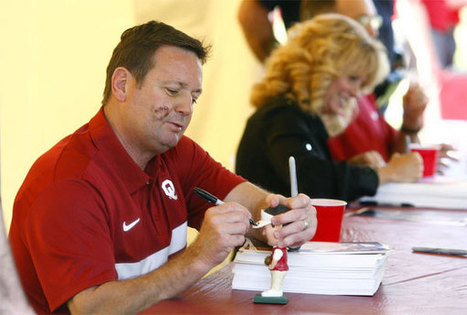 So Coach Bob Stoops isn't buying the SEC dominance just becuase they have won the last seven national championships. He points out the bottom six are not doing anything special and the conference as a whole hasn't created a huge gap when compared to the other major conferences.
He is right about the SEC as a whole, as they have had coaching turnover and bad losses to the mid-majors as well. Just look at Arkansas last year, they were chosen to be one of the favorites and they fell apart and lost several non-conference games against supposedly inferior teams. Kentucky is another example having one of the worst records in college before ejecting their coach last year. So, like every other conference the have their haves and have-nots and just happen to have the best team in football the last couple of years.
So, does this mean the Big12 and Big10 are inferior when comapred to the SEC? No, it only means that the SEC's top teams have been the top national team the last cpuple of years. The SEC conference bowl record as whole is another indicator of this. It is not time to crown the SEC as a dynasty, only to recognize that they have had the best team in college football the last few years.
I like the way Coach Stoops says: "He is not worried about it".
What do you think?