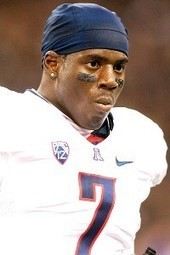 Cortez Johnson's transfer from Arizona seem to get little attention when it happened during the "Mike Stoops returns to OU" timeframe, but it is making waves now. Cortez has been emerging during the spring practices and making waves as he looks to lock down the corner position opposite Aaron Colvin.
The Sooners need some star talent on defense as Mike Stoops looks to rebuild a defense that was burned far to often for big plays last year. Stopping the spread offenses of the Big12 is no laughin matter as they tend to rack up high scores and huge yards aginst in-conference and out of conference foes alike. So Cortez emerging must be music to the coaches ears, as it will allow more defensive pressure to be applied because the corner have their assignments handled and the lineman and linebackers can turn it on and get to the quarterback.
The article linked to this post is just one of several talking about Cortez's abilities and emergence. This is great because developing young players was once one of Mike Stoops calling cards and it looks like it might be again. Glad to see Cortez getting it done.