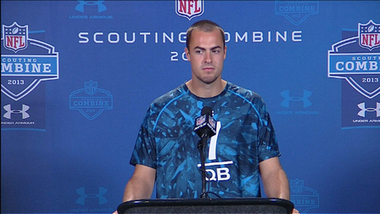 Former OU Quarterback Landry Jones speaks at the combine about potentially being a first round pick and his relationship with Andy Reid, Head Coach of the Kansa City Chiefs, a potential suitor for Landry's skills.
Many NFL Draft Analysts having Landry going in the 2 to 4 rounds, as his stock fell during the season, as many question his mobility and accuracy.
It is interesting to see this decline as he has the protypical NFL quaterback size experience. This combine will go a long ways to determining Landry's final draft position. This is a long way from his position last year as he was a certain first round pick coming out as a Junior. Sometimes staying is not the best decision as Landry and USC quaterback Matt barkley are finding out.
Hope the best for Landry, but April is going to be interesting. What do you think about Landry's draft potential?