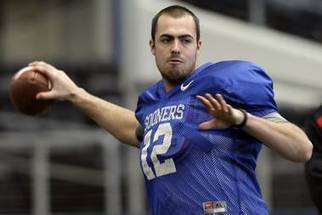 Sooner4OU Commentary: Glad to see Landry getting his rightfully deserved recognition for all his hard work and efforts. Here is to him having a fantastic Cotton Bowl and a long career in the NFL. Boomer Landry Boomer!
Article Excerpt: On the verge of his 50th college start and with more 16,000 passing yards, Oklahoma senior Landry Jones had every right to be confused by the question.
How, he was asked, does it feel to be the "other quarterback" in the AT&T Cotton Bowl Classic against Texas A&M on Friday? The implication was clear. For the moment, there's Heisman winner Johnny Manziel, and then there's every other college quarterback.
"I don't really worry about it," Jones said. "If I am the other quarterback, so be it. Whatever people want to think."
Actually, the role would be a major change for Jones. Ever since he replaced another Heisman winner, the injured Sam Bradford, against BYU at Cowboys Stadium in 2009, he's been the quarterback in almost every game he's played.
He's been very, very good for what seems like a very long time.