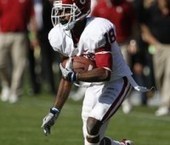 Sooner4OU Commentary: Having Jalen Saunders starting for the Sooners in the Cotton Bowl is extremely important as we have seen Landry and the offense struggle when there is no true option in the slot. This is defintely a good sign. What do you think about having Jalen available...important or not?
Article Excerpt: Thanks to a pair of arrests over the past month, the statuses of two Oklahoma players for the Sooners' bowl game has been up in the air.
Friday evening, the Sooners clarified the availability of both in one fell swoop.
In a release, OU announced that defensive tackle Stacy McGee "will not travel to the game nor participate in any activities related to the game." In other words, he has been suspended for the Cotton Bowl matchup with Texas A&M.
On the brighter side, wide receiver Jalen Saunders has been cleared to participate in the postseason game.