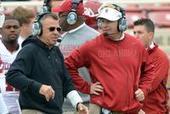 Sooner4OU Commentary: It is good to see that Mike Stoops and Tim Kish are not resting on their last defensive performance and are putting together an intricate defensive plan designed to specifically stop Johnny and the Aggies. Mike has a good record and history when he has time to prepare for a foe. How do you think the Sooners will do against A&M with plenty of time to prepare? Boomer!
Article Excerpt: Teams change in the time between the end of the regular season and a bowl game. Most teams get over a month to come up with a game plan for the season's last game.
How teams react is one of the aspects that make bowl games hard to predict.
OU defensive coordinator Mike Stoops freely admits the game plan he's installing for the meeting with No. 10 Texas A&M in the AT&T Cotton on Jan. 4 is going to be more intricate than the one installed for OU's last game against TCU.
"Well, we'll probably be more diversified, change up some looks. I think you can go in with a little more of an arsenal than we have previously in a week's period of time," he said this week. "We'll just add a little bit to our game plan."
Stoops, who is about to end his first season as defensive coordinator after spending seven seasons as Arizona's head coach, has history of using the extra time wisely.
During his first stint as defensive coordinator, OU rolled to bowl victories in the 2003 Rose Bowl, 2002 Cotton Bowl and 2001 Orange Bowl/national championship on dominant defensive performances.