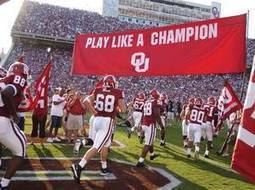 Kurt Burris touched the sign as he ran onto Owen Field for the 1953 Notre Dame game. Clendon Thomas did the same before the 1957 Notre Dame game.
Leon Cross touched the sign before the 1962 Notre Dame in Norman. Likewise Granville Liggins in 1966.

PLAY LIKE A CHAMPION TODAY

Bud Wilkinson put up the sign early in his OU coaching career. Maybe in 1947. No later than 1950 or 1951.

That sign today sits in the Switzer Center museum. The words are reprinted on the mural in the tunnel that leads onto Owen Field. So Casey Walker and Trey Millard and Bronson Irwin and Javon Harris will touch the same message as they take the field to play Notre Dame on Saturday night.