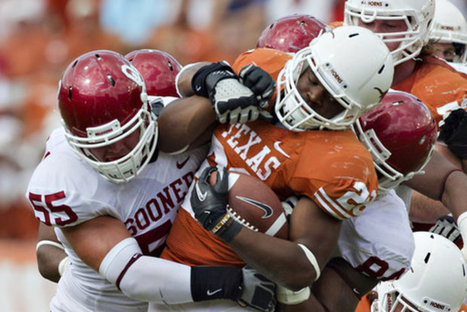 Sooner4OU Commentary: One day till kickoff in one of the most storied match-ups in all of sports. Yes, the Red River Rivalry is set to kickoff at 11AM tomorrow and the Sooners are itching to keep some positive momentum going in 2012 and scratch out a win against Mack Brown's Longhorns. it should be a tight and hard fought battle, but i believe the Sooners come out on top. What do you think?
Article Excerpt: The Red River Shootout has traditionally been a battle to see who would win the Big 12, but this year the two arch-rivals are playing to stave off elimination in the conference title race.
The Red River Shootout has long been the annual contest for conference and regional dominance. Texas and OU have combined to win over half (9 of 17) of the Big 12 championships, with the winner of the annual Cotton Bowl game claiming 7 of those crowns.
Bob Stoops took over the head coaching position at Oklahoma only 1 year after Mack Brown did at Texas. In their collective era, the Sooners have dominated with an 8-5 record, including 3 blowouts and 7 Big 12 championships.
However, this year both teams are struggling to maintain leverage in a conference of teams that have utilized the spread offense, the increase in quarterbacks produced by Texas high schools and increasing TV revenues to thin the margin between the Red River contestants and the rest of the pack.