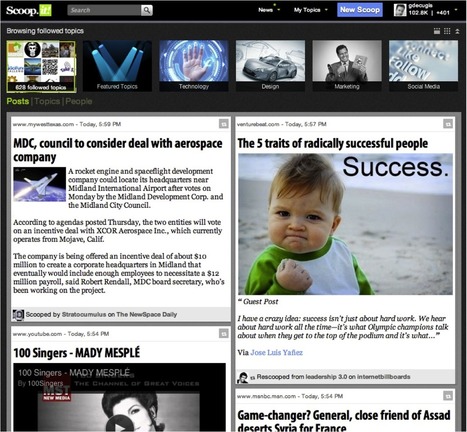 So who's curating the curators?
This might sound like a joke but this has also been a subject of controversy: are curators adding to the noise or are they the essential components of the global brain? If every one becomes a curator, how can this work?
...
http://www.youtube.com/watch?v=E-W-9P6rOnU
...
http://www.scoop.it/t/web-content-digital-curation/p/2114240213/curation-how-the-global-brain-evolves
...
Our vision at Scoop.it has always been that the answer to that resided in the Interest Graph. The social graph is not enough to filter our interests: just because we're connected or friends doesn't mean you share my interests for online gaming, freeride skiing or astronomy. And these interests – we've learned – are very long tail: just on Scoop.it, hundreds of thousands of topics have been created by our users since we launched. There is no way to curate the curators in an absolute sense. But at the topic level, there is. As Steve Rosenbaum put it "Andy Warhol was wrong. We're not going to be famous for 15 minutes. We're each going to be famous for 15 People." (a number of visitors our average user reaches in 6.1 days of activity by the way).
http://www.scoop.it/t/web-content-digital-curation/p/207831/steve-rosenbaum-content-is-king-no-longer
So today, we're excited to introduce Scoop.it's new visual dashboard.
...
Starting today, your Scoop.it dashboard will not only serve as a home base for your curation, but as your own personalized Interest Graph.
..
Instantly creating a dynamic feed of all of the most recent posts on the topics you follow as well as topics within many different categories of interest, the new Visual Dashboard brings discovery and inspiration to a whole new level.
..
Discovery and Curation are two sides of the same (content) coin. In the new dashboard, you'll be able to rescoop on the fly any content worth sharing to your audience while easily adding your own context from the now-classic Scoop.it publishing pop-up...
...
Discovery also means broadening your interests or refining them. With the new dashboard, Search will never be far, offering many additional opportunities for your curation work to be discovered: