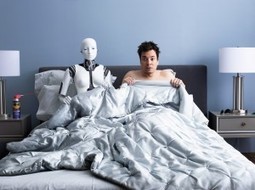 -▶ BETTER THAN HUMAN. WHY ROBOTS WILL, AND MUST, TAKE OVER HUMAN JOBS The rote tasks of any information-intensive job can be automated. It doesn't matter if you are a doctor, lawyer, architect, reporter, or even programmer: The robot takeover will be epic.... http://www.stateofnature.org/?p=5856
FastCoExist
-▶ FOR YOUR NEXT BIKE RIDE, BRING ALONG THIS FRIENDLY DRONE http://www.fastcoexist.com/3025404/for-your-next-bike-ride-bring-along-this-friendly-drone?partner=newsletter
WATCH
IEEE Spectrum
2013 THE YEAR IN ROBOTS
EEE Spectrum's award-winning robotics blog, featuring news, articles, and videos on robots, humanoids, automation, artificial intelligence, and more... http://spectrum.ieee.org/automaton/robotics/artificial-intelligence/video-friday-our-favorite-robot-videos-and-biggest-stories-from-2013?goback=.gde_1982451_member_5822380518406135811#!
Impact Lab, January 12, 2014
-▶ THE RISE OF 'TECHNOLOGICAL UNEMPLOYMENT http://www.impactlab.net/2014/01/12/the-rise-of-technological-unemployment/
WATCH
Documentary
WILL WORK BE FREE
The Rise of Technological Unemployment
https://www.youtube.com/watch?v=0SuGRgdJA_c#t=20
Institute for Ethics & Emerging Technologies, March 5, 2013
-▶ TECHNOLOGICAL UNEMPLOYMENT: PANACEA OR POISON? http://ieet.org/index.php/IEET/more/deane20130305
WATCH
BBC Future Report
WILL MEN AND MACHINES MERGE?
Inventor and futurist Ray Kurzweil explains why humans and computers will become indistinguishable in the next two decades. How this momentous change will come about and what it will mean for us and society. http://www.bbc.com/future/story/20121108-will-men-and-machines-merge
IEEE Spectrum, January 2, 2014
-▶ WHEN WILL WE HAVE ROBOTS TO HELP WITH HOUSEHOLD CHORES? Google, Microsoft, and Apple are investing in robots. Does that mean home robots are on the way? http://spectrum.ieee.org/automaton/robotics/home-robots/when-will-we-have-robots-to-help-with-household-chores
NPR, The Picture Show, December 28, 2014
-▶ THIS MILK PRODUCTION WAS BROUGHT TO YOU BY A ROBOT http://www.npr.org/blogs/pictureshow/2012/12/28/168201889/this-milk-production-was-brought-to-you-by-a-robot

VIDEO
Huffington Post Tech, Decembert 14, 2013
GOOGLE ACQUIRES BOSTON DYNAMICS, ADDING TO ITS FLEET OF ROBOT-MAKERS http://www.huffingtonpost.com/2013/12/14/google-robots-boston-dynamics_n_4445429.html
BBC Future, 2 January, 2013
-▶ TOMORROW'S WORLD: A GUIDE TO THE NEXT 150 YEARS http://www.bbc.com/future/story/20130102-tomorrows-world
ROBOTS AND HUMAN EMPLOYMENT (DEPLOYMENT?)

Forbes, 25 March 2013
-▶ BUT WHAT IF AUTOMATION OVERWHELMS THE NEED FOR EMPLOYEES? http://www.forbes.com/sites/economaney/2013/03/25/but-what-if-automation-overwhelms-the-need-for-employees/
Tweak Town, January 14, 2-14
-▶ BURGER-FLIPPING ROBOT MAKES 360 GOURMET BURGERS PER HOUR WATCH http://www.tweaktown.com/news/34846/burger-flipping-robot-makes-360-gourmet-burgers-per-hour/index.html
-▶ PASSING THE BUCK: MORE THAN HALF OF U.S. FAST FOOD WORKERS ON PUBLIC AID http://sco.lt/6njYXJ
Geekwire, December 16, 2013
-▶ AMAZON GERMANY WORKERS PROTEST AT COMPANY HEADQUARTERS: "WE ARE HUMANS, NOT ROBOTS" http://www.geekwire.com/2013/amazon-strike/
The Economist, May 25, 2013
-▶ THE AGE OF SMART MACHINE: Brain work may be going the way of manual work http://www.economist.com/news/business/21578360-brain-work-may-be-going-way-manual-work-age-smart-machines
New York Times, April 21, 2012
-▶ THE FLIGHT FROM CONVERSATION. WE live in a technological universe in which we are always communicating. And yet we have sacrificed conversation for mere connection. . http://www.nytimes.com/2012/04/22/opinion/sunday/the-flight-from-conversation.html?pagewanted=all
TechRepublic
-▶ ROBOTS OF DEATH, ROBOTS OF LOVE: THE REALITY OF ANDROID SOLDIERS AND WHY LAWS FOR ROBOTS ARE DOOMED TO FAILURE http://www.techrepublic.com/article/robots-of-death-robots-of-love-the-reality-of-android-soldiers-and-why-laws-for-robots-are-doomed-to-failure/
-▶ TECHNOLOGY, HUMAN BEINGS AND THE FATE OF THE EARTH : A SOCIAL CRITIQUE OF MODERN LIFE - State Of Nature http://www.stateofnature.org/?p=5856
Huff Post Tech, August 27, 2012
-▶ THE AGE OF CONTINUOUS CONSUMPTION: THE BATTLE TO CONTROL THE BUY CENTER IN YOUR BRAIN http://www.huffingtonpost.com/bianca-bosker/the-age-of-continuous-consumption_b_1833454.html
WATCH
VIDEO REPORT
NHK World English
- ▶ SMART PHONES, SMART KIDS, SMART APPS -- STARTING AT ONE YEAR OLD IN JAPAN http://www3.nhk.or.jp/nhkworld/english/movie/feature201211211022.html
Gigaom, November 12, 2012
-▶ THE DISRUPTION OF EDUCATION: HOW TECHNOLOGY IS HELPING STUDENTS TEACH THEMSELVES http://gigaom.com/2012/11/02/the-disruption-of-education-how-technology-is-helping-students-teach-themselves/
Huffington Post World, October 7, 2013
▶ YOUTH UNEMPLOYMENT A GLOBAL SCOURGE - GRAPH http://www.huffingtonpost.com/2013/10/07/youth-unemployment-worldwide-joblessness_n_4019601.html?ir=World&ref=topbar
IS SUSTAINABILITY EVEN POSSIBLE?
March 5, 2012, Wired UK
-▶ SUSTAINABILITY IS THE NEW SPACE RACE http://www.wired.co.uk/news/archive/2013-03/05/sustainability-space-race
▶ THE CRISIS OF CIVILISATION IS AN UNPRECEDENTED OPPORTUNITY: BUSINESS-AS-USUAL IS NOT SUSTAINABLE http://sco.lt/7yOrpp
▶ BUSINESS SHOULD CONTRIBUTE TO SOCIAL HEALTH AND WELL BEING OF THEIR LOCAL COMMUNITIES http://sco.lt/5Ktuuf
▶ THE CONUNDRUM AT THE HEART OF SUSTAINABILITY - OUR DISCONNECTION FROM NATURE http://sco.lt/6HVMzR
-▶ REWILD THE CHILD http://sco.lt/6BGlA9
Guardian Social Impact Hub, Feb 27, 2013
-▶ WHAT IS THE HUMAN AND ENVIRONMENTAL COST OF NEW TECHNOLOGY? http://www.theguardian.com/sustainable-business/human-environmental-cost-new-technology
-▶ WE ARE SURROUNDED BY GENIUS - WHOLE SYSTEMS DESIGN BY NATURE http://sco.lt/93Eq13
United Nations Environmental Programme, June 21, 2013
-▶ CLIMATE CHANGE, WATER SHORTAGE, BIODIVERSITY LOSS, WILL HAVE GROWING IMPACTS ON GLOBAL BUSINESS http://unep.org/newscentre/Default.aspx?DocumentID=2718&ArticleID=9552&l=en#sthash.OgqLDMrH.d
-▶ MORALITY IS MISSING FROM THE DEBATE ABOUT SUSTAINABLE BEHAVIOUR http://sco.lt/6bo6N7
-▶ THIS FAITH IN THE MARKETS IS MISPLACED: WILL BIG BUSINESS SAVE OR DESTROY OUR PLANET? http://sco.lt/8Yxtgn
-▶ FALLING BACK IN LOVE WITH MOTHER EARTH - THICH NHAT HANH - The Guardian Sustainable Business http://sco.lt/6X2cJV
-▶ FOR MORE ON ROBOTS AND OUR FUTURE: GO TO
"SINGULARITY" http://www.scoop.it/t/singularity2
Inspiring teens to cultivate their own sources of personal power through Science and Technology
Via
Ana Cristina Pratas
,
pdjmoo