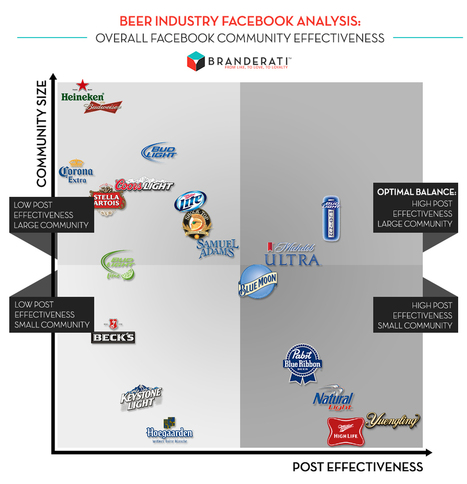 Success and the impact of your Facebook community can be defined in several ways.
But commonly used metrics such as fan size and engagement percentage don't tell the whole story. To truly measure the effectiveness of your Facebook communities you need to understand post effectiveness and competitive ranking.
It's become fairly standard to track metrics such as the size of the community, post frequency, and engagement. Indeed, these are all important parts of the bigger picture and need to be considered. At BRANDERATI, though, we take the analysis one step further and look deeper into the data. We measure the overall page and post effectiveness (more on this below) and compare brands' performance against their key competitors. You see, to determine the overall success of a Facebook page it is crucial to look at measures that will offer a weighted balance of size and engagement effectiveness, as well as look at how the community performs against other similar communities in the digital ecosystem.



Via
Russ Merz, Ph.D.