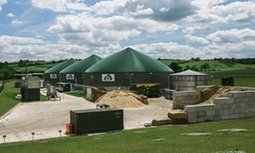 Wyke Farms saves £100,000 a year on energy bills thanks to green initiatives. And that's just the start
The dairy business in southwest England, which exports 14,000 tonnes of cheddar a year to more than 160 countries, has been building an energy generation and water recycling operation over the past five years to reduce its environmental impact and save money. According to Clothier, it's been able to lower its energy bills by nearly £100,000 per month as a result.
Aside from solar panels, Wyke generates electricity and heat from cow dung. Using microbes, the dung is broken down to produce biogas, which the farm burns to generate electricity and heat. Since dung naturally releases methane during decomposition, the process of producing biogas helps the farm cut the amount of methane – a potent greenhouse gas – reaching the atmosphere.
In addition, the cheese maker converts some of the biogas into biomethane, the majority of which it sells to businesses – including the supermarket chain Sainsbury's – via a local utility's pipelines.

Wyke's reliance on solar and biogas isn't unusual for an agricultural business. What sets Wyke's plan apart is its scale and complexity. The company is putting in place software to monitor energy generation and wastewater recycling, which can figure out the business's needs and adjust the energy generation accordingly.