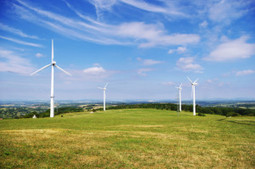 Onshore wind has become the cheapest form of energy in Europe according to a major continental utility, giving fossil fuels a run for their money. Despite the
A third of EDP's energy is generated by wind and in a recent presentation to analysts by Joao Manso Neto, the firm's head of renewables, figures showed that the levellised cost of electricity of onshore wind in Europe is 20 per cent cheaper than gas and one third cheaper than coal, assuming a 25 per cent wind capacity factor.
Neto told the analysts that wind energy is also cheaper than gas in key emerging markets such as Brazil, South Africa, Mexico, and major Asian markets, according to the Renewable Economywebsite.
He said: "It is clear, more and more, that our product (wind energy) is good, not just because it is green, but because it is cheaper."
Yesterday, Lord Deben, chairman of the UK's independent committee on climate change, said that there is enough onshore wind already in planning to meet the EU's 2020 targets, echoing the comments of Britain's Energy Minister, Michael Fallon, who said that onshore wind farms which had not been granted planning permission before next year's general election would not be subsidised.