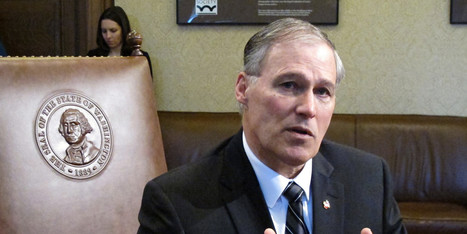 SEATTLE (AP) — With an abundant supply of hydroelectric power, Washington state currently gets less than 14 percent of its electricity from coal.

Gov. Jay Inslee wants to take that down to zero over time....
Saying the state has a moral responsibility to act on climate change, Inslee signed an executive order last month directing state agencies to negotiate with utilities to phase out electricity produced from coal.
"It's not a trivial activity by any means, but I think it can be done," said Tony Usibelli, director of Washington's energy office, on eliminating coal-fired electricity from the state's fuel mix.
The state's only coal-fired power plant, the TransAlta facility in Centralia, is slated to shut down by 2025. Most of the state's coal-fired electricity, or coal by wire, is imported from the Colstrip power plant in eastern Montana and the Jim Bridger plant in Wyoming.
One elected official in Montana recently criticized Inslee's proposal as job-killing, while environmentalists cheered it as a big step toward making Washington coal-free.
... "We're going to look at the data, look at the information, look at modeling," Danner said. "But utilities themselves are aware of what their customers want. The people in Washington want to be coal-free."