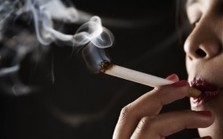 Do you know about the dangers of thirdhand smoke? Studies have indicated that thirdhand smoke can lead to DNA changes and cancer.
According to Hang, thirdhand smoke—or the residue from smoking found on surfaces and in dust in a room or area where someone previously smoked—can produce toxicants that undergo chemical changes when they encounter compounds in the air. One of these compounds created by thirdhand smoke is 4-(Methylnitrosamino)-4-(3-pyridyl)-butanal, or "NNA".
NNA, says Hang and his colleagues, can attach itself to DNA and create a cancer-causing chemical, according to MedicalNewsToday.
NNA and another compound known as NNK break down DNA, damaging it in such a way that leads to uncontrolled cell growth and the possible formation of tumors.
While Hang's research is still in its early stages, he says we have only begun to understand the full damage that thirdhand smoke can cause. Babies and toddlers may be most at risk of these dangers because they are still developing and because they are most likely to swallow, touch, and inhale these compounds as they crawl around, touching everything in their path and frequently putting their hands in their mouths.