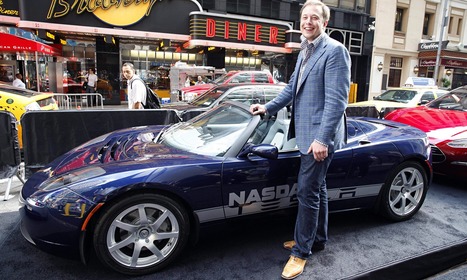 The Guardian Cheap batteries will revolutionise the renewable energy market The Guardian Renewables like solar and onshore wind are coming down dramatically in price – the industry forecasts they will be cheaper than grid electricity in most of the...
News this week, from opposite ends of the planet, that points to the convulsion of change about to hit the global economy. The first report came from Palo Alto, California, headquarters of the Tesla electric car company. Tesla's car produces no carbon emissions (so long as the electricity that charges its batteries is also low carbon). Tesla's chief executive, Elon Musk, announced it would invest in a $4bn-$5bn"gigafactory" doubling the world's production of lithium-ion batteries. These power your mobile phone, but also Tesla's high-end luxury electric cars. The objective is to cut battery prices by 30% in three years, and to halve them by 2020.
Since battery cost is the main obstacle to electric cars, this is potentially game-changing. It would allow electric cars with a 200-mile range to compete with the Ford Mondeo and not just the BMW 5-series (Tesla has already spurred the Bavarian luxury car-maker into an electric response).
Disruptive change is a constant feature of capitalism. Railways ran coaching inns out of business. Electricity did for gas lighting, which had replaced oil lights, which replaced whale oil. The economist Joseph Schumpeter called it "creative destruction". We are on the crest of another technological tsunami.
The good news is that this wave will make the planet safer, and our children's future more secure.