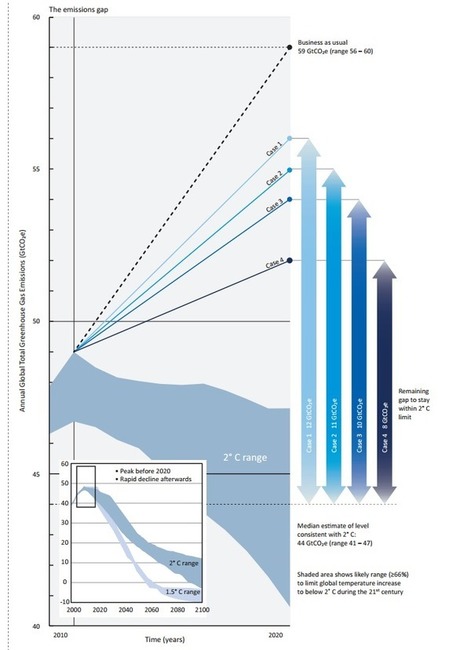 Washington Post (blog) How the world is failing at its climate goals, in one giant chart Washington Post (blog) Every time world leaders get together and talk about climate change, they tend to agree on one big thing: We shouldn't let global...
The 2°C goal: If the world wants to limit global warming to below 2°C this century, the report notes, then the world's annual greenhouse-gas emissions will likely need to peak soon and decline roughly 14 percent by 2020 (and then, crucially, keep falling for decades thereafter). That's the shaded blue area.
Now look at the line in the big chart above marked "Case 4." This is a scenario in which the world's nations actually follow through on their most ambitious pledges and obey strict greenhouse-gas accounting rules — in other words, no cheating with gimmicky offsets. Even then, the world wouldn't be on pace to meet its 2°C target by 2020.
"Failure to invest today in best available technologies and options not only represents a lost opportunity to reduce emissions," the report argues, "it also curtails our ability to reduce them in the near future as high energy use and emission patterns are locked-in for several decades."