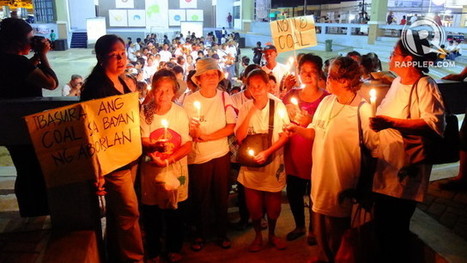 Rappler
Palawan aims for a 100% renewable energy future
Rappler
GOING FOR RENEWABLE ENERGY. Palaweños gather to lend their support to the Palawan provincial government's 100% renewable energy plan. All photos by Pia Ranada/Rappler.
It was the eve before the start of consultations for the province's master energy plan. The goal is for the province to be 100%-powered by renewable energy and reduce electricity costs for the entire province.
The plan is long overdue. Palawan, an emerging tourist destination known for its natural wonders, is besieged daily by brown-outs and black-outs that sometimes last as long as 10 hours. The island is not connected to the national grid and is dependent on bunker or diesel fuel shipped in from other countries.
Around 60% of barangays in the province have no power, said Ventura, while those who do pay a high price, literally. Electricity here costs P12 per kilowatt/hour (kW/h) compared to the Metro Manila rate of P6/kW/h.
But Palawan's exclusion from the national grid may be a blessing in disguise: it means Palawan can restart from scratch and isn't bound to follow the fossil-fuel-dependent energy models used in other parts of the Philippines.
This, combined with Palawan's pristine ecosystems, makes the province the perfect experimental ground for renewable energy in the Philippines.
"Palawan is so much better off than the rest of the Philippines. Palawan is the last ecological frontier. It can prove if we can live sustainably. It can be a model to follow," said World Wide Fund for Nature Philippines CEO Lory Tan.