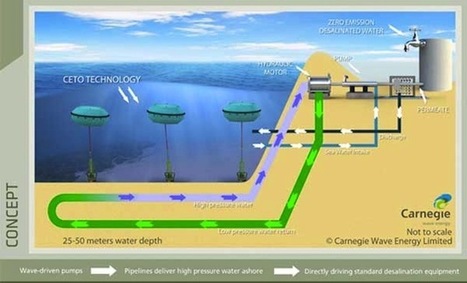 Green Prophet
World's First Wave-Powered Desalination Tech Offers Zero-Emission Energy ...
The 2MW pilot project will utilize the firm's CETO technology, which is comprised of several buoys anchored to the sea floor that power pumps that push pressurized water via subsea cables to the shore. There the water can either be used to produce clean energy, like a dam, or to power a reverse osmosis desalination facility.
Carnegie Wave Energy has entered into an agreement with the Water Corporation of Western Australia, a leader in seawater desalination, which allows allows the latter, more established firm to support the pilot project.
"We are pleased to have the support of the Water Corporation with our project," said Carnegie's Chief Executive Officer and Managing Director, Dr Michael Ottaviano. "Water Corporation are innovators in the field of seawater desalination and Carnegie's wave powered desalination pilot will be a world first."
Any kind of wave power is tricky. The kind of wind and water conditions necessary to generate sufficient energy to make the expense worthwhile is usually very destructive to the technology employed to do the job.