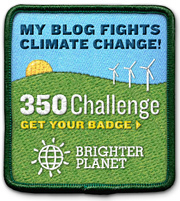 RT @billmckibben: Interesting moment when our military commander in the Pacific says climate change is the greatest threat we face http://t.co/PMyxBBUN7n
Locklear commented that "People are surprised sometimes" that he highlights climate change — despite an ability to discuss a wide-range of threats, from cyber-war to the North Koreans. However, it is the risks — from natural disasters to long-term sea-level rise threats to Pacific nations that has his deepest attention.
"You have the real potential here in the not-too-distant future of nations displaced by rising sea level. Certainly weather patterns are more severe than they have been in the past. We are on super typhoon 27 or 28 this year in the Western Pacific. The average is about 17."
"Climate Change merits national security — military — attention for very pragmatic reasons.
"The ice is melting and sea is getting higher," Locklear said, noting that 80 percent of the world's population lives within 200 miles of the coast. "I'm into the consequence management side of it. I'm not a scientist, but the island of Tarawa in Kiribati, they're contemplating moving their entire population to another country because [it] is not going to exist anymore."