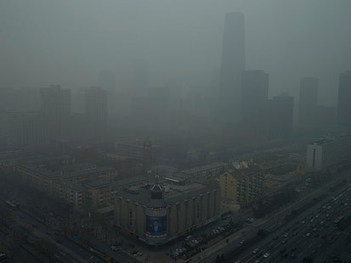 Levels of PM2.5 particle pollution over the weekend reached the highest levels since the Beijing government began publicly releasing figures early last year, and in separate monitoring by the U.S. Embassy, they were at 886 micrograms per cubic meter in a reading that was labeled "beyond index."
By Monday levels had declined to 245 micrograms on the Beijing government scale — down from a high above 700 — but still way above the level of 25 considered safe by the World Health Organization.
PM2.5 are tiny particulate matter less than 2.5 micrometers in size, or about 1/30th the average width of a human hair. They can penetrate deep into the lungs, and measuring them is considered a more accurate reflection of air quality than other methods.