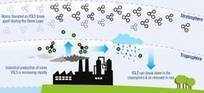 At present, naturally-emitted VSLS account for around 90% of the total ozone loss caused by VSLS in the lower stratosphere. However, the contribution from man-made VSLS compounds is increasing and appears set to increase further in coming years.
Study co-author Dr Stephen Montzka from the NOAA added: "The increases observed for dichloromethane are striking and unexpected; concentrations had been decreasing slowly in the late 1990s, but since then have increased by about a factor of two at sites throughout the globe."
Dr Hossaini said: "It is uncertain what is driving this growth. However, it could be partly due to the fact that dichloromethane is used in the manufacturing process of some HFCs, the 'ozone-friendly' gases which were developed to replace CFCs. This would mean, ironically, that production of ozone-friendly chemicals is actually releasing some ozone-destroying gases into the atmosphere."
The researchers found that while the amount of ozone depletion arising from VSLS in the atmosphere today is small compared to that caused by longer-lived gases, such as CFCs, VSLS-driven ozone depletion was found to be almost four times more efficient at influencing climate.
Dr Hossaini explained: "Due to their short atmospheric lifetimes, VSLS break down and destroy ozone in the lowermost part of the stratosphere. This is important, as a molecule of ozone lost in this region has a far larger impact on climate than a molecule destroyed at higher altitudes by longer-lived gases."
The researchers also separated out natural sources of VSLS – such as seaweed in the ocean – and those released due to human activity – such as industrial processes – in order to determine the relative importance of each.