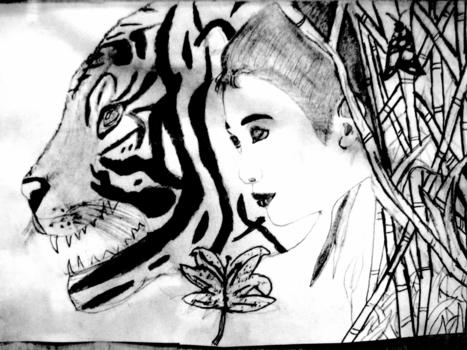 Long ago in a semi-barbaric country, guilt or innocence was decided when the accused chose one of two unmarked doors. Behind one door was a beautiful lady (life) and behind the other a vicious tiger (death).
This story has become a basic text for English classes in American schools because it poses an unresolved moral dilemma. Author Frank Richard Stockton (1834 - 1902) was born in Philadelphia, Pa. He is best known for a series of children's fairy tales popular in the last decades of the 19th century.
"The Lady, or the Tiger?" was first published in Century Magazine in November 1882. Although Stockton was flooded with letters requesting the answer to the question posed in the title, he never satisfied their curiosity, perhaps because he realized that the story's success lay in the ambiguity of its ending.
Stockton wrote a sequel to the story, "The Discourager of Hesitancy." The full text of both stories is available online:
"The Lady, or the Tiger?" Gutenberg, HathiTrust
"The Discourager of Hesitancy" WikiSource, HathiTrust
Stockton's story was also adapted into a motion picture, The Lady, or the Tiger?, Metro-Goldwyn-Mayer, 1942.
Want to listen to more stories? Attend a live short story reading by joining me at Story Time for Grown-Ups at Mid-Manhattan Library.
Download: Audio (9.6 MB MP3, 20 min 05 sec)
Read by Lois Moore