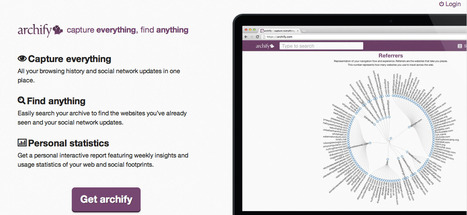 Can't remember that tweet from last week? That article from last month? Or that movie review you saw?
archify captures a screenshot and the full text of every page you see, together with all the updates on Facebook, Twitter and LinkedIn. You can save your archive in a private folder within your Gmail, or simply look it up on your own search page.
Yes, it's that simple!
✔ Capture everything

All your browsing history and social network updates in one place.

☛ Find anything

Easily search your archive to find the websites you've already seen and your social network updates.

✍ Personal statistics

Get a personal interactive report featuring weekly insights and usage statistics of your web and social footprints.
Via
Ana Cristina Pratas