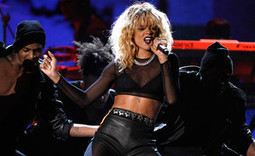 • Rihanna has started work on her eighth studio album, according to producer DJ Mustard.
The man behind Bow Wow's 'We In Da Club' also claimed that he'll be behind the desk for at least one of the tracks on the new record.
• Speaking to HipHop-N-More, DJ Mustard said: "I'm finally going in with Rihanna."
• When asked whether the music would be for her next record, he replied: "Of course it is".
He added: "I'm just doing what I think she would like, and if she don't like it we'll just figure out something else in the studio, and I'll just keep making beats 'till she figure it out. But she's gonna get one."
• The as-yet-untitled record would be the follow-up to 2012's 'Unapologetic'.