Scoop.it!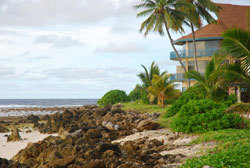 A cautionary tale about life in Nauru, a place with hard ecological limits.
WRITTEN BY THE PRESIDENT OF NAURU
picture from www.discovernauru.com
chris tobin's insight:
Nauru is 8 sq miles, a sovereign nation in Micronesia with a population of about 10,000. The currency is the Australian dollar and the language is Nauran and English. The island has many birds, fishing, coral, phosphate mines which destroyed the rainforests, limestone pinnacles, but limited fresh water and electricity. Monsoon season is Nov to Feb with NE tradewinds March to Oct and 80% humidity. It has 30 km of coastline and sandy beaches but the coast is eroding quickly. Vegetation includes coconut palms and tomans trees, frangipani flower and of course bananas.
Unemployment is high. The eroding coast due to rising sealevels such as what is seen in Papua and the Solomon Islands and Tuvalu, Kiribate and Marshall Islands where tides in low lying areas cause people to flee their homes. Environmental projects to restore damage from mining is underway.
PLEASE READ THIS LETTER FROM THE PRESIDENT OF NAURU (2011) NY Times article online