Scoop.it!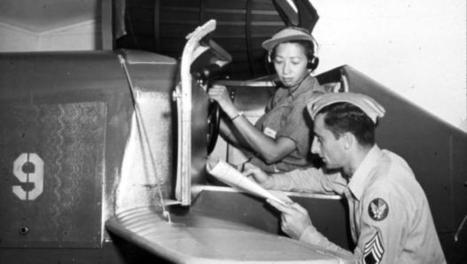 Hazel Ying Lee ferried fighter planes during World War II, delivering them around the country for the war effort
John Jung's insight:
The first Chinese-American woman to fly for the military, Hazel Ying Lee was born in Portland, Oregon, in 1912, at a time of few opportunities for Chinese-American women. But she joined the Chinese Flying Club of Portland and at a time when less than one percent of pilots in the United States were women, she began lessons.
After the Japanese attack on Pearl Harbor, and the creation of the Women Airforce Service Pilots women were recruited to take delivery of aircraft from the factories where they manufactured.
She was one of about 130 women able to fly the pursuit airplanes, including the faster, more powerful P-47, P-51 and the P-63 Kingcobra.
Chinese American Hazel Ying Lee was among 38 members of the Women Airforce Service Pilots during World War II. PHOTO COURTESY NATIONAL ARCHIVES
In November 1944, Lee was delivering a P-63 from the Bell Aircraft factory at Niagara Falls, N.Y., to Great Falls, Mont. She was cleared to land just after 2 p.m., as a large number of P-63s approached at once, and in the confusion, her plane and another P-63 collided. She was pulled from a burning airplane, her flight jacket smoldering, and two days later, on Nov. 25, died from her injuries.
© 2013 CBS Interactive Inc. All Rights Reserved. Shares Tweets Stumble EmailMore +