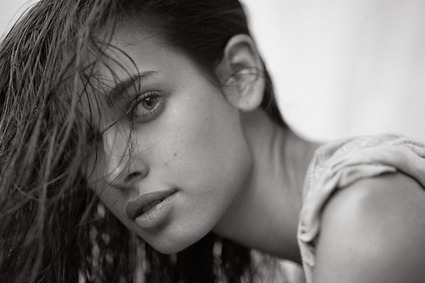 Photo: ©® Rafa Andreu - All rights reserved
Hello, Rafa! You're our special guest for this 2nd Issue of 'Marcel and me' and It really makes us happy!
Hello Hervé! Thanks for your invitation!
First of all, especially for our readers who don't know you yet, may you introduce yourself?
Well… I'm more fluent in images than in words, but I will try to introduce myself to those who do not yet know me the best way possible, camouflaging as much as I can my limited writing skills!

I am a photographer, 34 years young, based in Barcelona, Spain since 2002. Born in El Salvador and studied photography at the IEFC in Barcelona. For around six years I've been working as a fashion, beauty and portrait photographer along developing my personal art projects. I love art, and painting is my largest weakness, I see it as if I inhale painting and exhale photography, and in some of my personal projects, let's say I mess up some of my own photographs with paint (not sure if you can call that painting though, is up to you).

There are some elements I usually look for in all my work, sensations and feelings I want to produce, those elements are simplicity, stillness and silence, my head is noisy enough all the time and I need to distil all that chaos, condensate all that energy it into a few clear, beautiful lines. The pictures have to be still, to be as timeless and as balanced as possible, therefore I choose central, clear and usually classical painting-type compositions, you might even notice that the format of my vertical photographs is not 2:3 ratio as most photographs are, is not as long, because I use a ratio similar to the classic portrait format from painting instead. I shoot mainly with natural light and when working with models I try having as less distracting elements as possible, to concentrate in what is important to me, visually to study where the essence of my subject's beauty lies, struggling with the light, decoding which lines make him or her special, representing that balance of proportions, and when I find it, after that click… silence.
Nice track so far! And very interesting artistic process. Here, our own approach has always been based on a healthy form of curiosity about lateral approaches and we still actively encourage transversality. Rafa, you told us you're now based in Barcelona ; could you recommend us three places you love most?
Three places? OK… First I love is Bar Lobo in Barcelona where I go with Laura (my girl-friend) a lot. The food is great and I have wonderful memories there. Second one, The Georges Pompidou Center in Paris, I think the curators and museographers working there are brilliant, a true holy place for Art. The third place I love is the Catalan mountain of Montserrat, for centuries hermits, mystics and pilgrims have gone there, and once you are up, after a long walk and in silence, without a doubt you understand why.
Thanks from us all! Now, are you feeling ready to answer the famous Marcel Proust's questionnaire?
Sure I'm.
So, let's roll…
The principal aspect of your personality: Chronic Curiosity Disorder or CCD, leading me to a constant state of observation.The quality that you desire in a man: HumilityThe quality that I desire in a woman: Character.What you appreciate most about your friends: I really appreciate the fact that surprisingly they are still talking to me.Your main fault: I am a mess and easily distracted, I could lose things like my phone five times before leaving the house and even lose my camera several times during shootings, I usually stop every few minutes because I cannot find it.Your favorite occupation: Contemplating, meditating, doing and talking about Art.Your dream of happiness: Being a positive influence to everyone surrounding me.What would be your greatest misfortune: Being utterly dramatic! A friend described this to me some years ago, he said "You ask for a light coke in a bar and if the waiter tells you they do not have any, you go like: Oh! God! No! Once more… just a frail puppet of destiny!!!"What you should like to be: I would like to become the best version of myself, both personally and professionally.The country where you should like to live: Spain, but I guess somewhere with an overwhelming vegetation would be nice too.Your favorite color: Green and grey-green.The flower that you like: Lilies and daisies but I love flowers in general, they have always been present in the arts because of their qualities, became symbols of beauty and its ephemeral nature, the fugacity of life, all concepts that are a constant in my work and thoughts. In a way, in my fashion images I am a flower photographer.Your favorite bird: Rosemary roasted chicken. (I should go get dinner after this)Your favorite prose authors: I feel a special connection to my Latin American origins when reading Isabel Allende or Gabriel García Marquez.Your favorite poets: My favorite poets are visual poets, Andre Kertesz would be one of them, his late still lives deeply move me.Your favorite heroes in fiction: I find it hard to admire fictional characters.Your favorite heroines in fiction: Same as my previous answer.Your favorite composers: I would say George Frideric Handel.Your favorite painters: Now this is the toughest! Painting is my biggest passion. Some of my favorites and in no particular order would be Velazquez, Goya, Cecilia Giménez, Francis Bacon, Cy Twombly, Odd Nerdrum, Nino Longobardi, Antoni Tapies, Robert Motherwell, Franz Kline, Cesar Menéndez, Jose Luis Cuevas and Benjamín Cañas just to name a few.Your heroes/heroines in real life: People who during difficult times can keep a good sense of humor. I truly admire that.Your favorite names: Laura. It has a Latin root that refers to the laurel wreaths given to the victorious.What you hate most of all: Racism, injustice and violence.The gift of nature that you would like to have: A peaceful mind.How you wish/want to die: Old as dirt after laughing too hard!Your present state of mind: Restless.Faults for which you have the most indulgence: I am indulgent to most of people's faults in general, it's not in my nature to judge other's behaviors.Faults for which you have the least indulgence: Arrogance and prepotency.What is your motto?: 'Ex umbra in solem', a Latin phrase meaning from the shadows and into the light.
Thanks for accepting our invitation and for participating to this second issue of 'Marcel & me', Rafa! It was extremely interesting to listen to you and great to have you here from Barcelona.
My pleasure.
We wish you all the best for your future projects!
Thank you, Hervé! See you in Barcelona!
Sure. And maybe next summer!
And please U all, have a look on Rafa's website!
©® Fashion Models News 2013 - All rights reserved
Via
Herve Le Duc