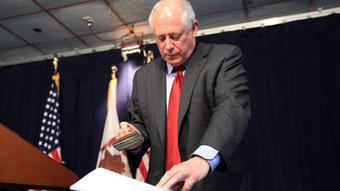 Rejecting Gov. Pat Quinn's plea to not increase power rates to help improve some of the state's electrical grid, the Illinois senate voted to override his veto of a bill that bulks up the revenue Commonwealth Edison will receive as it modernizes the electrical grid.

The senators voted 44-11-1 on the measure, topping the 36 votes needed to override Quinn's veto of the measure this month.

Under current law, three-fifths of legislators in each chamber of the legislature must agree to override a veto from the governor. The original bill passed with more than 70 percent support in the House and Senate back in March.

In exchange for $2.6 billion in consumer rate hikes over 10 years, ComEd had pledged to digitize the electrical grid. The utility said that operational changes would ultimately save money and that in-home devices would give consumers more control over their electricity usage. New smart meters were to be installed throughout ComEd's service territory of roughly 3.8 million customers. About 130,000 have been installed as a pilot project.

But when it came time for 2011 law to be implemented, ComEd and the Illinois Commerce Commission disagreed. ComEd appealed 12 technical matters worth about $100 million a year it. The dispute continues in court.
Click headline to read more--
Via
Chuck Sherwood, Senior Associate, TeleDimensions, Inc