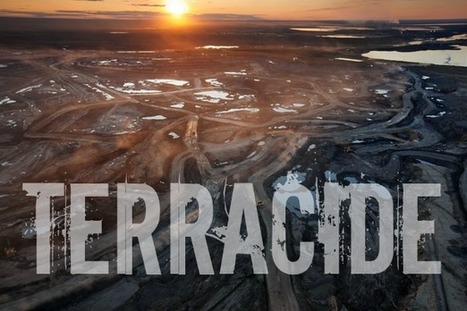 May 23, 2013 Tom Engelhardt - Common Dreams
Terracide and the Terrarists ...
Call it irony, if you will, or call it a nightmare, but Big Oil evidently has no qualms about making its next set of profits directly off melting the planet. Its top executives continue to plan their futures (and so ours), knowing that their extremely profitable acts are destroying the very habitat, the very temperature range that for so long made life comfortable for humanity.
Their prior knowledge of the damage they are doing is what should make this a criminal activity. And there are corporate precedents for this, even if on a smaller scale. The lead industry, the asbestos industry, and the tobacco companies all knew the dangers of their products, made efforts to suppress the information or instill doubt about it even as they promoted the glories of what they made, and went right on producing and selling while others suffered and died.... http://www.commondreams.org/view/2013/05/23-4
WATER IN THE ANTHROPOCENE http://sco.lt/856DXl
April 1, 2013 Huffington Post
NASA's DR. JAMES HANSEN: DOUBLING DOWN ON OUR FAUSTIAN BARGAIN http://www.huffingtonpost.com/dr-james-hansen/doubling-down-on-our-faustian-bargain_b_2989535.html?
August 3, 2013 Global Possibilities
THE CLIMATE TIME BOMB THAT WILL COST US $60 TRILLION: Obama in the US, and Harper in Canada, are turning North America into a petro–imperial and petro–despot continent. This doesn't bode well for solving the climate crisis... http://www.globalpossibilities.org/the-climate-time-bomb-that-will-cost-us-60-trillion/
July 10, 2013 Guardian Environment
JAMES HANSEN: FOSSIL FUEL ADDICTION COULD TRIGGER RUNAWAY GLOBAL WARMING http://www.guardian.co.uk/environment/earth-insight/2013/jul/10/james-hansen-fossil-fuels-runaway-global-warming
+++WATCH+++++
VIDEO: TAR SANDS OIL EXTRACTION - "THE DIRTY TRUTH" VIDEO http://sco.lt/6OpdeT
June 17, 2013 Global Possibilities
WHEN DRONES GUARD THE PIPELINE: THE MILITARISATION OF FOSSIL FUELS http://www.globalpossibilities.org/when-drones-guard-the-pipeline/
COAL BURNING EXACTS A LETHAL PRICE http://sco.lt/7HudAP
May 30, 2013 Renewable Energy World
THE FUTURE COULD NOT BE CLEARER FOR RENEWABLE ENERGY http://www.renewableenergyworld.com/rea/news/article/2013/05/the-future-could-not-be-clearer-for-renewable-energy
OBAMA'S ARCTIC STRATEGY SETS OFF A CLIMATE TIME BOMB - THE SUICIDAL RACE FOR ARCTIC'S NATURAL RESOURCES http://sco.lt/9MK5eT
--- WATCH ---
VIDEO Encore:
*** ENDING THE SILENCE - POLITICS AND CLIMATE CHANGE - Moyers and Company http://sco.lt/5St5Cj
VIDEO REPORT Democracy Now May 13, 2013
**** "The Hockey Stick & the Climate Wars", Prof. Michael Mann
http://www.democracynow.org/2013/5/13/climate_tipping_point_concentration_of_carbon
March 7, 2013 - Smart Planet
MEET THE COMPANIES LOOKING TO PROFIT FROM CLIMATE CHANGE http://www.smartplanet.com/blog/bulletin/meet-the-companies-looking-to-profit-from-climate-change/14398
*** CLIMATE TIPPING POINT? CONCENTRATION OF CARBON DIOXIDE TOPS 400 PPM FOR FIRST TIME IN HUMAN HISTORY http://sco.lt/8pMIe9
THIS IS OUR ENERGY REALITY http://sco.lt/7LUrHV
ARCTIC OCEAN 'ACIDIFYING RAPIDLY' - HIGHEST LEVELS IN 55 MILLION YEARS - ARCTIC COULD BE ICE-FREE IN TWO YEARS http://sco.lt/6qm61h
May 23, 2013 Fuel Fix
HIGHER EMISSIONS LINKED TO COAL-FIRED PLANTS IN TEXAS AND OTHER STATES http://fuelfix.com/blog/2013/05/23/higher-emissions-linked-to-coal-fired-power-plants-in-texas-and-other-states/
HOLDING CORPORATIONS RESPONSIBLE: Mining Companies Devastate Pristine Wisconsin for Frac-Sand - Leaving a Mining, Chemical Wasteland http://sco.lt/66Gc7N
MINING, FOREIGN LAND GRABS ENDANGERING ENVIRONMENT, ECOSYSTEMS AND LOCAL COMMUNITIES http://sco.lt/5M5eLp
TIME TO END PREFERENTIAL TREATMENT AND SUBSIDIES FOR FOSSIL FUEL PRODUCERS http://sco.lt/5iNZyL
OVERFISHING - THE LOSS OF OCEAN SPECIES IS STAGGERING http://sco.lt/51LeCn
OUR OCEANS NEED US http://www.scoop.it/t/our-oceans-need-us
ERADICATING ECOCIDE: WHY BUSINESS LEADERS MUST STEP UP TO THE CHALLENGE http://sco.lt/56vkOH
THE UPRISING: GLOBAL BIOTECH/ GMO ECOCIDE http://sco.lt/7wlInJ
---------------------------TAR SANDS / OIL SANDS -------------------
March 7, 2013 CBC -The Nature of Things with David Suzuki - -
******TIPPING POINT: AGE OF THE OIL SANDS http://www.cbc.ca/natureofthings/episode/tipping-point.html
+++WATCH
VIDEO: TAR SANDS OIL EXTRACTION - "THE DIRTY TRUTH" VIDEO http://sco.lt/6OpdeT
March 6, 2013 - Inside Climate News
CRITICAL PART OF US STATE DEPT KEYSTONE XL PIPELINE REPORT DONE BY FIRMS WITH DEEP OIL INDUSTRY TIES http://insideclimatenews.org/news/20130306/keystone-xl-eis-state-department-transcanada-oil-tar-sands-industry-ensys-energy-koch-brothers-exxonmobil-bp-obama
30 March 2013 The Tyee –
KEYSTONE XL PIPELINE COMPANY BULLIES http://thetyee.ca/News/2013/03/30/Pipeline-Company-Bullies/
-------------------------NATURAL GAS / FRACKING -----------------------
FRACKING OURSELVES INTO OBLIVION http://sco.lt/8mKlIP
HOW A NEW STUDY SERIOUSLY CHALLENGES NATURAL GAS AS A CLEAN FOSSIL FUEL - METHANE GREENHOUSE GAS RISES http://sco.lt/7Ftflp
USA NATURAL GAS (FRACKING) IS FOR EXPORT, LEAVING A POLLUTION CESSPOOL FOR TAXPAYER CLEANUP - METHANE GLOBAL WARMING http://sco.lt/6f9msr
New Scientist
MAJOR METHANE RELEASE IS ALMOST INEVITABLE http://sco.lt/8pss0v
FOOD OR FUEL: BIG OIL AND BIG AG FIGHT IT OUT OVER ETHANOL BIOFUEL http://sco.lt/4rDj1t
PALM OIL ECOCIDE - THE DEFORESTATION HOLOCAUST: Fast-Tracking Our Own Extinction http://www.scoop.it/t/biodiversity-is-life/p/1510545458/fast-tracking-our-own-extinction-the-deforestation-holocaust-
THE SIXTH MASS EXTINCTION IS UPON US. CAN HUMANS SURVIVE? http://sco.lt/630INt