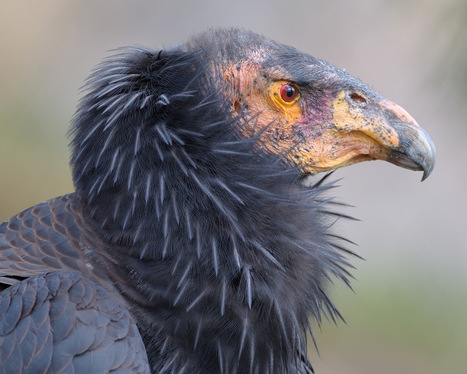 Seattle Times, December 06, 2013
-▶ OBAMA ADMINISTRATION TO ALLOW EAGLE DEATHS - TO AID WIND POWER. Under pressure from the wind-power industry, the Obama administration said Friday it will allow companies to kill or injure eagles without the fear of prosecution for up to three decades.
http://seattletimes.com/html/politics/2022408924_apxwindenergyeagledeaths.html?syndication=rss
Inhabitat, February 19, 2014
▶ THE WORLD'S LARGEST SOLAR THERMAL PLANT IS FRYING BIRDS - SHOULD WE WORRY? http://inhabitat.com/the-worlds-largest-solar-plant-is-frying-birds-should-we-worry/
Summit Voice, February 16, 2014
-▶ NEW STUDY UPS ESTIMATE OF WIND TURBINE BAT DEATHS TO 600,000 FRISCO — By the latest conservative estimate, at least 600,000 bats were killed by energy producing wind turbines in 2012, with the highest fatality rates in areas near the Appalachian Mountains.
The bats are killed when they fly into the towering turbines which spin at up to 179 mph with blades that can stretch 130 feet. Previous estimates of bat deaths ranged from 33,000 to 880,000. http://summitcountyvoice.com/2013/11/16/new-study-ups-estimate-of-wind-turbine-bat-deaths/
WATCH
QUEST TV
BIRDS, BLADES AND THE BRUTAL BUSINESS OF CLEAN ENERGY
Does a shift toward renewable energy sources mean choosing between wind turbines and wildlife? http://science.kqed.org/quest/2014/01/09/birds-blades-and-the-brutal-business-of-clean-energy/
Bloomberg Sustainability, February 19, 2014
-▶ U.K. OFFSHORE WIND EXPANSION SCRAPPED BY CONCERN FOR BIRDS. "Renewable energy, like every other industry, must be developed in harmony with the natural environment," RSPB Head of Energy Policy Harry Huyton said in an e-mailed statement. "Critical to this is avoiding damaging developments in sites that are particularly special for nature."
http://www.bloomberg.com/news/2014-02-19/bird-habitat-concern-forces-utilities-to-scrap-wind-farm.html
EarthTechling
-▶ WIND TURBINE- BIRD DEBATE FLARES WITH NEW MASSIVE FATALITY FIGURE. A published study has concluded that 573,000 birds and 888,000 bats were killed by wind power in 2012. The figure on birds – which includes 83,000 raptors – is about 30 percent higher than the 444,000 estimate by a U.S. Fish & Wildlife Service biologist in 2009, when the U.S. had about half as much installed wind capacity.... http://www.earthtechling.com/2013/07/wind-bird-debate-flares-with-new-fatality-figure/
WATCH:
Video March 18, 2013 CFact
-▶ BIG WIND HIDES EVIDENCE OF TURBINE MASSIVE BIRD KILLS - AND GETS REWARDED. HERE'S HOW THEY DO IT http://www.cfact.org/2013/03/18/wind-turbines-kill-up-to-39-million-birds-a-year/
Focusing on Wildlife, December 15, 2013
-▶ WIND TURBINES STILL KILLING HUNDREDS OF THOUSANDS OF BIRDS http://focusingonwildlife.com/news/wind-turbines-still-killing-hundreds-of-thousands-of-birds/
May 14, 2013 Grist
-▶ OBAMA ADMINISTRATION GIVES WIND INDUSTRY A PASS FOR KILLING TENS OF THOUSANDS OF PROTECTED BIRDS
Wind turbines killed an estimated 83,000 birds of prey last year, yet the administration has never prosecuted a wind farm for killing a protected bird... http://grist.org/news/obama-administration-loves-wind-energy-hates-birds/?utm_campaign=daily&utm_medium=email&utm_source=newsletter&sub_email=thenaturaleye%40gmail.com
January 26, 2012 CS Monitor
-▶ WIND POWER: CLEAN ENERGY, DIRTY BUSINESS? http://www.csmonitor.com/Environment/2012/0126/Wind-power-Clean-energy-dirty-business
New York Times, December 16, 2013
-▶ A STRUGGLE TO BALANCE WIND ENERGY WITH WILDLIFE http://www.nytimes.com/2013/12/17/science/earth/a-struggle-to-balance-wind-energy-with-wildlife.html?hp&_r=1&;
Summit County, November 16, 2013
-▶ 600,000 BATS KILLED IN 2012 BY ENERGY PRODUCING WIND TURBINES: NEW STUDY http://summitcountyvoice.com/2013/11/16/new-study-ups-estimate-of-wind-turbine-bat-deaths/
-▶ WHITE-NOSE SYNDROME, WINDFARMS HAVE KILLED UP TO 6.7 MILLION BATS - http://sco.lt/5dc13Z
New York Times, December 25, 2013
-▶ WIND POWER DEVELOPERS RACE CLOCK TO SECURE U.S. GOVERNMENT SUBSIDY http://www.nytimes.com/2013/12/26/business/energy-environment/wind-power-developers-race-clock-to-secure-subsidy.html?ref=us&_r=0
Living on Earth, December 13, 2013
-▶ CAPE WIND IN DOUBT - TAX CREDITS AND THE MONEY GAME http://www.loe.org/shows/segments.html?programID=13-P13-00050&segmentID=3
Mail Online, December 26, 2013
-▶ £30 MILLION PAID BY UK HOUSEHOLD BILLS FOR WIND TURBINES THAT DON'T WORK WHEN IT'S WINDY http://www.dailymail.co.uk/news/article-2529297/Title-goes-here.html
-▶ Focusing on Wildlife, December 12, 2013
POLL: SHOULD THE REGULATION ON THE KILLING OF BALD EAGLES BY WIND TURBINES BE LOOSENED? New law relies exclusively on the for-profit wind industry to self-report bird fatalities, even when such information may prove detrimental to the industry's bottom line. ... http://focusingonwildlife.com/news/poll-should-the-regulations-on-the-killing-of-bald-eagles-be-loosened/
May 14, 2013 Deseret News
-▶ WIND FARMS GET PASS AS EAGLE DEATHS; 83,000 HUNTING BIRDS KILLED EACH YEAR http://www.deseretnews.com/article/765629588/AP-IMPACT-Wind-farms-get-pass-on-eagle-deaths.html
Reuters, October 17, 2013
-▶ BULGARIA FACES EU COURT OVER WINDFARM THREAT TO BIRDS http://www.trust.org/item/20131017150242-kakzb/?source=hpbreaking
HuffingtonPost, November 22, 2013
-▶ DUKE ENERGY RENEWABLES GUILTY PLEA NETS BIG FINE FOR BIRD-KILLING WIND TURBINES http://www.huffingtonpost.com/2013/11/22/duke-energy-bird-fine_n_4326596.html
AND NOW SOLAR TOO:
The Independent, November 15, 2013
-▶ BIRDS BEING HARMED, KILLED BY SOLAR PROJECTS PLACED ALONG 'PACIFIC FLYWAY" MAJOR MIGRATION PATHS
Birds are diving into the reflective surfaces of these solar panels, believing them to be bodies of water, or are being burned by concentrated solar.,, http://www.independent.co.uk/environment/green-living/solar-projects-placed-along-pacific-flyway-major-migration-paths-are-burning-wings-of-birds-8942681.html
REWIRE, September 26, 2013
-▶ FIRST WIND TURBINE "EAGLE TAKE" PERMIT MAY COME TO CALIFORNIA WINDFARM http://www.kcet.org/news/rewire/wind/your-chance-to-comment-on-wind-facility-eagle-take-permit.html
Treehugger, September 25, 2013
-▶ DUTCH WIND TURBINE CROWDFUNDED IN JUST 13 HOURS http://www.treehugger.com/wind-technology/dutch-wind-turbine-crowdfunded-just-13-hours.html


May 14, 2013 Huffington Post Green
-▶ WIND FARM BIRD DEATHS STIR CONCERNS IN THE USA http://www.huffingtonpost.com/2013/05/14/wind-farms-bird-deaths_n_3270691.html
September 13, 2013 Huffington Post Green
-▶ WIND INDUSTRY RESPONDS TO TROUBLING REPORT ON EAGLE DEATHS http://www.huffingtonpost.com/2013/09/13/wind-farms-eagle-deaths_n_3915629.html?utm_hp_ref=green
January 26, 2012 CS Monitor
-▶ WIND POWER: CLEAN ENERGY, DIRTY BUSINESS? http://www.csmonitor.com/Environment/2012/0126/Wind-power-Clean-energy-dirty-business
August 8, 2013 The Hill
-▶ OBAMA IN CENTER OF FIGHT OVER BALD EAGLE DEATHS http://thehill.com/blogs/regwatch/pending-regs/316051-obama-in-center-of-green-fight-over-eagle-deaths
August 3, 2013 - BDN Maine
-▶ TO AVOID KILLING BIRDS WITH WIND TURBINES, RESEARCHERS TRACK FLIGHT PATTERNS OFF MAINE COAST http://bangordailynews.com/2013/07/31/outdoors/biologists-tracking-maine-seabirds-in-advance-of-offshore-power/

VIDEO
June 28, 2013 Mirror News
BIRDWATCHERS GATHER TO SEE RARE BIRD...FLIES INTO A WIND TURBINE...DIES http://www.mirror.co.uk/news/uk-news/horrified-birdwatchers-see-rare-white-throated-2003724
-- MORE ON IMPORTANCE OF BIRDS AND THEIR FATE ---
-▶ ****STATE OF THE WORLD'S BIRDS REPORT INDICATES A PLANET IN PERIL http://sco.lt/4yq6z3
-▶ ****NO SAFE HAVEN: MIGRATING BIRDS BEING MASSACRED BY THE MILLIONS AROUND THE WORLD http://sco.lt/6pozuT
-▶ ****WETLANDS VITAL IN SUPPORTING HUMAN LIFE AND BIODIVERSITY http://sco.lt/6Nfjcn
-▶ PRICING CARBON, CARBON STORAGE, OFFETS: FAILED STRATEGIES THAT WON'T SAVE THE CLIMATE OR THE PLANET http://sco.lt/7UBKIj
-▶ FOOD OR FUEL? RESEARCH SUGGESTS BIOFUELS WILL COST THE EARTH http://sco.lt/5D24ET
-▶ SOLAR ON A ROLL : TAKES OFF WORLDWIDE | @scoopit http://sco.lt/7T2vmT