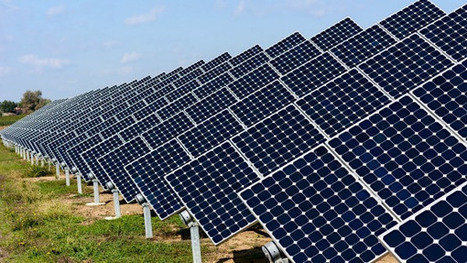 April 10, 2013 - Grist
▶ Rooftop solar panels and other distributed-energy tools will radically shake up the power sector, according to an unusually frank report from a utility trade group.... http://grist.org/climate-energy/solar-panels-could-destroy-u-s-utilities-according-to-u-s-utilities/
Sydney Morning Herald, October 28, 2013
AUSTRALIA:
▶ SOLAR - ELECTRICITY INDUSTRY MUST OPEN ITS EYES TO THE BENEFITS OF HOMES INSTALLING SOLAR PANELS
Solar panels have moved from being a fringe technology to a disruptive technology, challenging the way energy businesses operate. As with every revolution, the solar revolution is facing a reactionary response by the established order. Read more: http://www.smh.com.au/comment/electricity-industry-must-open-its-eyes-to-benefits-of-homes-installing-solar-panels-20131027-2w9kh.html#ixzz2j4oDmvHD
September 3, 2013 Yale Environment 360
▶ WITH ROOFTOP SOLAR ON RISE, U.S. UTILITIES ARE FIGHTING BACK http://e360.yale.edu/feature/with_rooftop_solar_on_rise_us_utilities_are_striking_back/2687/
August 2, 2013 Treehugger
▶ NO MORE FREE SUN: ARIZONA'S BIGGEST POWER UTILITY WANTS TO TAX SOLAR http://www.treehugger.com/renewable-energy/no-more-free-sun-arizona-if-solar-power-fee-approved.html
May 10, 2013 Bloomberg
▶ ROOFTOP SOLAR BATTLE PITS COMPANIES AGAINST UTILITIES http://www.bloomberg.com/news/2013-05-10/rooftop-solar-battle-pits-companies-against-utilities.html
April 19, 2013 Solar Daily
▶ PHYSICIANS UNITE AGAINST UTILITIES STOPPING SOLAR ENERGY - ALIGN WITH SOLAR ENERGY COMPANIES TO FORM NEW GROUP TO http://www.solardaily.com/reports/Physicians_Unite_with_Solar_Energy_Companies_to_Form_New_Group_999.html
July 26, 2013 New York Times
▶ ON ROOFTOPS, A RIVAL FOR UTILITIES COMPANIES - MOVING TO ROLL BACK GOVERNMENT INCENTIVES AIMED AT PROMOTING SOLAR AND RENEWABLE Big power companies say that incentives for solar power are robbing them of paying customers, setting up a fight for the future of renewable energy... http://www.nytimes.com/2013/07/27/business/energy-environment/utilities-confront-fresh-threat-do-it-yourself-power.html?ref=science
May 10, 2013 GOOD
▶ THIS AMAZING ROAD COULD REPLACE THE POWER GRID http://www.good.is/posts/this-amazing-road-could-replace-the-power-grid?utm_campaign=8&utm_source=carousel
▶ SOLAR ON A ROLL ▶
TAKES OFF WORLDWIDE
-▶ WORLD CAN'T WAIT UNTIL 2020 ON CLIMATE CHANGE, SAYS NEW HIGHLY-DISTURBING INTERNATIONAL ENERGY AGENCY REPORT http://sco.lt/82bCM5
-▶ DRILL, BABY DRILL: IN THE MIDST OF RECORD OIL, GAS BOOM, RISING C02, OBAMA ADMIN SEEKS MORE AND MORE OIL http://sco.lt/6ff30D
PRICING CARBON
A FAILED STRATEGY THAT WON'T SAVE THE CLIMATE OR PLANET
A WAKE-UP VIDEO:
"Extreme Ice"
Just How Fast Are We Melting? As It Happens
-▶ NO TO BIODIVERSITY OFFSETTING: NATURE IS PRICELESS (INVESTING LIKE AN ECOSYSTEM) http://sco.lt/7xzjKj
▶ COAL BURNING EXACTS A LETHAL PRICE http://sco.lt/7Tiyo5
▶ WIND TURBINES: IS IT OK TO SLAUGHTER HUNDREDS OF THOUSANDS OF BIRDS, BATS EVERY YEAR IN THE NAME OF "CLEAN" ENERGY? http://sco.lt/89su3d
-▶ FRACKING INDUSTRY AIMS TO EXPORT NATURAL GAS WHILE TOUTING FALSE CLAIMS OF ENERGY SECURITY
http://ecowatch.org/2012/fracking-industry-export-natural-gas/
-▶ USA LNG EXPORTS - FRIEND OR FOE? NATURAL GAS AS A CLEAN FOSSIL FUEL? http://sco.lt/6HpjbV
▶ FOOD OR FUEL? RESEARCH SUGGESTS BIOFUEL WILL COST THE EARTH http://sco.lt/8ezJ2X
▶ GLOBAL NUCLEAR WASTE: THE LONG DANGEROUS HALF-LIFE OF STRONTIUM-90: FUKUSHMA AND CHERNOBLY http://sco.lt/7fduoD
▶ FOR THE LATEST GLOBAL NEWS ON SOLAR TRENDS http://www.solardaily.com/
Via
Sass Peress
,
Stephane Bilodeau
,
pdjmoo