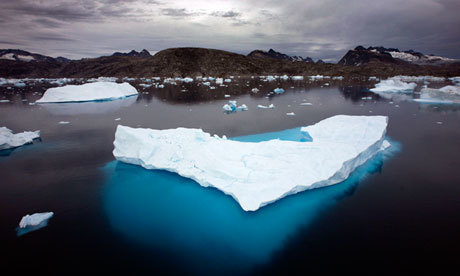 Project World Awareness, September 07, 2014
▶ LIFE ON THIS EARTH JUST CHANGED ... THE NORTH ATLANTIC CURRENT IS GONE http://www.projectworldawareness.com/2010/09/life-on-this-earth-just-changed-the-north-atlantic-current-is-gone/
Bloomberg, March 23, 2015
▶ ARCTIC MELT LEADING TO WEAKEST GULF STREAM IN UP TO 1,000 YEARS http://www.bloomberg.com/news/articles/2015-03-23/arctic-melt-leading-to-weakest-gulf-stream-in-up-to-1-000-years


WATCH
PBS Nature
As The Ice Melts a Remarkable Story Is Unfolding in The Arctic.
One That as Never Been told Before
"INVASION OF THE KILLER WHALES" (ORCAS)
http://www.pbs.org/wnet/nature/invasion-killer-whales-full-episode/11322/
August 2, 2013 TerraDaily
-▶ REPORT: LOSS OF SEA ICE CAUSING DRASTIC IMPACT ON MARINE FOOD WEB AND LAND-BASED ECOLOGICAL CHANGES http://www.terradaily.com/reports/UM_Researcher_Finds_Loss_of_Sea_Ice_Causes_Ecological_Changes_999.html
WATCH
63 YEARS OF GLOBAL WARMING IN 14 SECONDS
From NASA's Goddard Institute For Space Studies
http://www.climatecentral.org/news/watch-63-years-of-global-warming-in-14-seconds-17012
Speak Up For Blue
CONSEQUENCES OF THINNING ICE. Thin ice is a problem not only for polar bears. It is causing an algal bloom with unknown effects in the arctic ecosystem. And this is not only a problem for polar bears, seals, or other animals that can break their platforms or get isolated. Thin ice is changing the ecosystem more deeply than just a few large species... http://www.speakupforblue.com/in-ocean-news/climate-change-consequences-of-thinning-ice?awt_l=5ImGg&awt_m=3axIpupjUscR8Mt
A WAKE-UP VIDEO:
"EXTREME ICE"
Just How Fast Are We Melting? As It Happens
Greenpeace
SAVE THE ARCTIC
http://savethearctic.org/
▶ VAST METHANE PLUMES SEEN IN ARCTIC OCEAN AS SEA ICE RETREATS http://sco.lt/6H0vuD
Alternet, July 04, 2014
▶ THE GIANT METHANE MONSTER THAT CAN WIPE OUT THE HUMAN RACE: Underneath the frozen Arctic are 1,000 gigatons of the world's most deadly greenhouse gas http://www.alternet.org/environment/giant-methane-monster-lurking
Summit Voice, February 15, 2014
-▶ GLOBAL WARMING: MAJOR NEW REPORT WARNS OF 'ARCTIC SQUEEZE'. An entire bio-climatic zone, the high Arctic, may disappear.
FRISCO — Rapid climate change in the Arctic is putting enormous pressure on ecosystems, threatening biodiversity and the fundamental way of life of indigenous Arctic peoples, scientists said in a major new report.
"An entire bio-climatic zone, the high Arctic, may disappear. Polar bears and the other highly adapted organisms cannot move further north, so they may go extinct. We risk losing several species forever," said Hans Meltofte of Aarhus University, chief scientist of the report.
http://summitcountyvoice.com/2014/02/15/global-warming-report-warns-of-arctic-squeeze/
Science Daily, February 14, 2014
-▶ ARCTIC BIODIVERSITY UNDER SERIOUS THREAT FROM CLIMATE CHANGE http://www.sciencedaily.com/releases/2014/02/140214075511.htm
-▶ CLIMATE CHANGE COULD ENDANGER MORE ANIMALS THAN WE THOUGHT http://sco.lt/58HaEr
--- WATCH ---
August 1, 2013 Discovery News
WHAT SEA ICE LOSS MEANS FOR WILDLIFE
http://news.discovery.com/earth/oceans/sea-ice-loss-and-wildlife-impacts-its-not-just-polar-bears-130801.htm
-▶ POLAR BEARS 'MAY NEED TO BE FED BY HUMANS TO SURVIVE' http://sco.lt/7JCUk5
Yale Environment 360
-▶ WHY ARE BIRDS OF THE ARCTIC IN DECLINE? With some species of Arctic birds experiencing steep drops in population and their prey also undergoing marked shifts, scientists are working to understand what role climate change is playing in these unfolding ecological transformations... http://e360.yale.edu/feature/northern_mystery_why_are_birds_of_the_arctic_in_decline/2731/
August 26, 2013 TerraDaily
-▶ SEA ICE DECLINE SPURS THE GREENING OF THE ARCTIC http://www.terradaily.com/reports/Sea_ice_decline_spurs_the_greening_of_the_Arctic_999.html
August 6, 2013 Science Codex
-▶ MARINE LIFE SPAWNS SOONER AS OCEANS WARM, RE-ARRANGING MARINE LANDSCAPE http://www.sciencecodex.com/marine_life_spawns_sooner_as_oceans_warm-117042
August 2, 2013 Reuters
-▶ FISH DIE AS ALASKA TEMPERATURES CONTINUE TO BREAK RECORDS http://www.reuters.com/article/2013/08/02/us-usa-heatwave-alaska-idUSBRE97118020130802
-Wildlife Promise, October 16, 2013
-▶ DWINDLING ARCTIC SEA ICE FORCES 10,000 WALRUSES ASHORE http://blog.nwf.org/2013/10/dwindling-arctic-sea-ice-forces-10000-walruses-ashore/
-▶ MAINTAINING HEALTHY, BALANCED MARINE SYSTEMS ARE CRUCIAL FOR SPECIES SURVIVAL http://www.natuurbericht.nl/?id=9583
Japan Times, July 26, 2014
- ▶ AS SPECIES DIE, WHAT VALUABLE KNOWLEDGE DIES WITH THEM? http://www.japantimes.co.jp/life/2014/07/26/environment/species-die-valuable-knowledge-dies/
Quartz, February 04, 2014
-▶ CLIMATE CHANGE IS SLOWLY BUT STEADILY COOKING THE WORLD'S OCEAN http://qz.com/173647/climate-change-is-slowly-but-steadily-cooking-the-worlds-oceans/
August 5, 2013 Guardian Environment
-▶ CLIMATE CHANGE PUSHING MARINE LIFE TOWARDS THE POLES - STUDY http://www.theguardian.com/environment/2013/aug/05/climate-change-pushing-marine-species-to-poles
OCEANS ACIDIFYING
AT THE FASTEST RATE IN 300 MILLION YEARS
Rapidly Rising CO2 causing potential catastrophe
May 12, 3013 About My Planet
-▶ ACIDIFICATION OF OCEANS RISKING ECOSYSTEMS
http://www.aboutmyplanet.com/climate-change/acidification-risking-ecosystems-of-oceans/
May 7, 2013 World Environment News -
-▶ ACIDIFICATION: THE LATEST UNKNOWN FOR STRESSED ARCTIC ECOSYSTEM http://planetark.org/wen/68601
August 1, 2013 Summit County Citizens Voice
-▶ WHAT IF ARCTIC SEA ICE DOESN'T FORM IN WINTER? http://summitcountyvoice.com/2013/08/01/climate-what-if-arctic-sea-ice-doesnt-form-in-winter/
March 7, 2013 - Earth Policy Institute
-▶ WHERE HAS ALL THE ICE GONE? http://www.earth-policy.org/indicators/C50/ice_melt_2013
GREENLAND'S MELTING
CREATING A DIFFERENT CLIMATE THAN EARTH HAS EVER SEEN http://sco.lt/8bjv73
-▶ ANTARCTIC ICE LOSS HAVING PROFOUND EFFECTS ON OCEAN FLOOR ECOLOGY http://sco.lt/6cuyFF
UNESCO, February 22, 2012
-▶ MARINE SCIENTIST ALARMED ABOUT INCREASING THREAT TO OCEAN ECOSYSTEMS. In the last 30 years, coastal resources such as mangroves, coral reefs and fishery resources have become depleted on a large scale. For example, more than 60 per cent of Asia's mangroves have already been converted to aquaculture farms (ESCAP and ADB, 2000). The region is losing its resource bases to support people's livelihoods and sustain future economic development. http://www.unescobkk.org/news/article/marine-scientists-alarmed-about-increasing-threats-to-ocean-ecosystems/
-▶ OUR OCEANS ARE DYING: RAPIDLY SPIRALING DOWNWARD: MASS EXTINCTION MAY BE INEVITABLE http://sco.lt/8CFwcT
-▶ GLOBAL WARMING IS HERE TO STAY, WHICHEVER WAY YOU LOOK AT IT http://sco.lt/7WJayH
PRICING CARBON
A FAILED STRATEGY THAT WON'T SAVE THE CLIMATE OR PLANET
▶ OBAMA'S ARCTIC STRATEGY SETS OFF A CLIMATE TIME BOMB. THE SUICIDAL RACE FOR ARCTIC'S NATURAL RESOURCES http://sco.lt/5pPxWD
VIDEO
National Geographic
EXPLORING RUSSIA'S SPECTACULAR ARCTIC ISLANDS
http://video.nationalgeographic.com/video/magazine/ngm-franz-josef-land
October 11, 2012 Planet Change
-▶ PEOPLE AT RISK TO NATURAL DISASTER AND HOW NATURE CAN HELP http://change.nature.org/2012/10/11/people-at-risk-to-natural-disasters-and-how-nature-can-help/
-▶ WORLD CAN'T WAIT UNTIL 2020 ON CLIMATE CHANGE, SAYS NEW HIGHLY-DISTURBING INTERNATION ENERGY AGENCY REPORT http://sco.lt/82bCM5
-▶ LIVING IN THE ANTHROPOCENE: TOWARD A NEW GLOBAL ETHOS http://sco.lt/6FzKSX
POWERFUL WATCH
CLIMATE CHANGE - A WEAPON OF MASS DESTRUCTION
SECRETARY KERRY ON CLIMATE CHANGE
INDUSTRIAL CIVILIZATION HEADED FOR 'IRREVERSIBLE COLLAPSE'. UN IPCC REPORT/NASA-FUNDED STUDY http://sco.lt/68UVMn
-▶ 70,000 CANADIAN SEAL "CULL" AKA "SLAUGHTER, WILL NOT REVIVE CANADA'S COD STOCKS http://sco.lt/4i4j33