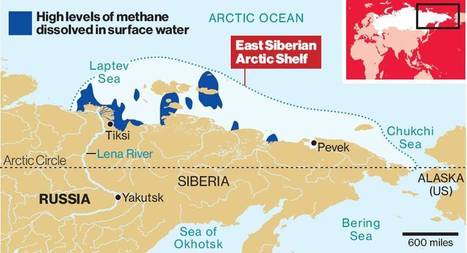 Independent, July 08, 2014
▶ VAST METHANE 'PLUMES' SEEN IN ARCTIC OCEAN AS SEA ICE RETREATS
Dramatic and unprecedented plumes of methane -
A GREENHOUSE GAS 20 TIMES MORE POTENT THAN CARBON DIOXIDE - have been seen bubbling to the surface of the Arctic Ocean by scientists undertaking an extensive survey of the region.... it's strongly reminiscent of what is probably the worst possible climate scenario imaginable, a feedback loop so humongous and destructive that it would lead to runaway warming that makes today's runaway warming look tame by comparison. The last time this happened, it poisoned 90 percent of all life on earth with hydrogen sulfide gas, in a process described by paleontologist Peter Ward as "life killing itself off."... http://www.independent.co.uk/news/science/vast-methane-plumes-seen-in-arctic-ocean-as-sea-ice-retreats-6276278.html
Alternet, July 04, 2014
▶ THE GIANT METHANE MONSTER THAT CAN WIPE OUT THE HUMAN RACE: Underneath the frozen Arctic are 1,000 gigatons of the world's most deadly greenhouse gas http://www.alternet.org/environment/giant-methane-monster-lurking
Alternet, July 04, 2014
▶ THE GIANT METHANE MONSTER THAT CAN WIPE OUT THE HUMAN RACE: Underneath the frozen Arctic are 1,000 gigatons of the world's most deadly greenhouse gas http://www.alternet.org/environment/giant-methane-monster-lurking
July 24, 2013 New Scientist
-▶ HUGE METHANE BELCH IN ARCTIC COULD COST $60 TRILLION http://www.newscientist.com/article/dn23923-huge-methane-belch-in-arctic-could-cost-60-trillion.html#.UfDLLlPc-RQ
Softpedia, April 16, 2014
-▶SHALE GAS WELLS FEATURE MASSIVE METHANE LEVELS http://news.softpedia.com/news/Shale-Gas-Wells-Feature-Massive-Methane-Levels-437922.shtml
HuffPost Green, April 15, 2014
-▶ METHANE EMISSIONS FROM GAS WELLS UP TO 1,000 TIMES HIGHER THAN FEDERAL ESTIMATE http://www.huffingtonpost.com/2014/04/15/methane-natural-gas-epa_n_5153205.html
New York Times, February 13, 2014
-▶ STUDY FINDS METHANE LEAKS NEGATE BENEFITS OF NATURAL GAS AS A FUEL FOR VEHICLES http://www.nytimes.com/2014/02/14/us/study-finds-methane-leaks-negate-climate-benefits-of-natural-gas.html?hp&_r=0
April 5, 2013 Mother Jones
-▶ FRACKERS LOSING $1.5 BILLION YEARLY TO METHANE LEAKS INTO ATMOSPHERE http://www.motherjones.com/blue-marble/2013/04/frackers-are-losing-15-billion-yearly-leaks
31 March 2013 Global Possibilities
-▶ LEAKAGES OF GAS IN PRODUCTION AND DISTRIBUTION SYSTEMS CAN LEAD TO HIGHER GREENHOUSE GAS LEVELS THAN BURNING OTHER FOSSIL FUEL LIKE COAL AND OIL http://www.globalpossibilities.org/new-study-exposes-how-natural-gas-isnt-the-clean-fossil-fuel-its-hyped-up-to-be-2/
-- WATCH --
March 3, 2013 The Energy Collective
MELTING PERMAFROST
A CLIMATE CHANGE TIME BOMB
http://theenergycollective.com/globalwarmingisreal/193961/permafrost-climate-change-time-bomb
February 22, 2013 Spiegel Online
▶SCIENTISTS WARN OF DANGER OF TRAPPED CARBON - MELTING PERMAFROST http://www.spiegel.de/international/world/new-science-research-shows-dangerous-carbon-lurking-in-permafrost-a-885052.html
July 22, 2013 Climate Central
▶ARCTIC'S BOREAL FORESTS, WHICH CONTAIN HUGE AMOUNTS OF BURIED CARBON, ARE BURNING AT AN UNPRECEDENTED RATE - NEW STUDY http://www.climatecentral.org/news/arctics-boreal-forests-burning-at-unprecedented-rate-16278
A WAKE-UP VIDEO:
"EXTREME ICE"
Just How Fast Are We Melting? As It Happens
4 TRILLION TONS OF ICE MELT RAISING SEA AT ALARMING RATE Journal "Science" Study: http://www.scoop.it/t/changingplanet/p/3533121273/4-trillion-tons-of-ice-melt-raising-seas-at-alarming-rate-journal-science-study
Guardian, November 9, 2013
▶ IPCC CHAIRMAN: ARE WE PREPARED TO "PASS ON A LOUSY, SPOILT AND DEFILED PLANET? http://www.theguardian.com/sustainable-business/ippc-pachauri-climate-change-spoilt-defiled-planet
Albuquerque Journal, April 05, 2014
▶ FOSSIL-FUEL MONEY MONEY DROWNING DEMOCRACY http://www.abqjournal.com/379429/opinion/fossilfuel-money-drowning-democracy.html
▶ HOW RIGGED IS THE FOSSIL FUEL MARKET? UNEARTHING THE TRUE COST OF FOSSIL FUELS http://sco.lt/97hfX7
WATCH:
'YEARS OF LIVING DANGEROUSLY"
Must See Video: Showtime Climate Series
IS "THREAT" ANOTHER PLOY FOR THE HIGHLY PROFITABLE, RADICAL GEOENGINEERING OF THE ARCTIC AND OUR CLIMATE? "Raining Chemicals From the Skies – Unregulated Climate Geoengineering" « The Natural Eye Project http://thenaturaleye.wordpress.com/2011/08/03/raining-chemicals-from-the-skies-geoengineering/
VIDEO
CLIMATE GEOENGINEERING:
CAN WE SAVE THE PLANET BY MESSING WITH NATURE?
-▶ THE SIXTH MASS EXTINCTION IS UPON US -- CAN HUMANS SURVIVE? http://sco.lt/95E5aL
--- WATCH ---
"THE DIRTY TRUTH" TAR SANDS OIL EXTRACTION -
THE DIRTIEST OIL ON EARTH
THE SHALE GAS 'FRACKING' REVOLUTION
AN ENVIRONMENTAL NIGHTMARE
COAL BURNING EXACTS A LETHAL PRICE