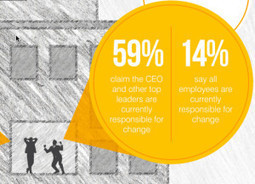 ...an overlooked statistic tells quite a story. If only 14% believe that "everyone" is responsible for change success, how can the whole system change? Answer … it doesn't.
...Change Agent Moment of Truth
In theory, internal consultants are neutral. In reality, many HR executives feel threatened by internal OD consultants to the point that I've witnessed OD consultants fired for their successes.
The dilemma is all about the question, "who do you serve?"
Stop the insanity of blaming the change recipients & start holding up the mirror for you, whether you are a change agent or change leader.
If you level the playing field, give a voice to the silent majority, and really confront change leaders and fellow change agents with their contributions to the status quo, you just might be part of the 20% instead of the 80%.


Related tools & posts by Deb:
Are you local to SE Michigan? Find out more about

horse-guided leadership development sessions

(no fee demos) for individuals by contacting Deb, after reviewing

her coaching page here.