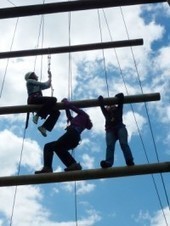 The old stuffed shirt business meeting that just goes on and on and on is the reason no one wants to attend. The new generation of worker is going to force all these mainstays of business to be "rethought."
I much prefer a more relaxed business environment where everyone is at ease, and, where the mission of the meeting is not lost. Let's all relax and really talk to each other and get to know each other. If we successfully handle this right, we will be" partners" in the end.
That is why we build the foundation first. When we do, the business will take care of itself.
There is an old saying that you build the well before you need the water. That especially hold true for business today.
s always in our ScoopIt news, click on the photo, video or title to see the full Scooped post.
Recent and related posts by Deb:
Stay in touch with Best of the Best news, taken from Deb's 9 multi-gold award winning curation streams from @Deb Nystrom, REVELN delivered once a month via email,

via REVELN Tools.
Are you local to SE Michigan? Find out more about horse-guided leadership development sessions (no fee demos) for individuals by contacting Deb, after reviewing

her coaching page here.