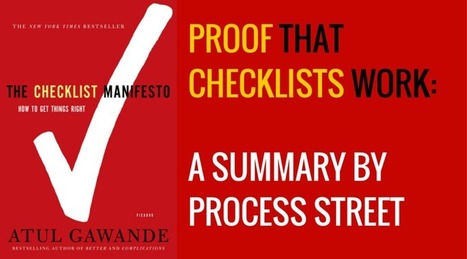 "What do Johns Hopkins surgeons, anonymous big-time investors and World War II pilots have in common?" Checklists. Checklists are for everyone.

For surgeons, disaster is a lethal infection caused by straying from proper precaution. For pilots, it's crashing a plane that was deemed far too complicated to fly – the Boeing B-17. For investors, checklists avoid what is sometimes known as 'cocaine brain'; the drive to make snap decisions on high-risk investments that often result in huge losses.


The Checklist Manifesto, written by writer/surgeon Atul Gawande, is proof that checklists really work. The Checklist Manifesto is the tale of how Gawande took an idea first popularized by pilots into the operating theater and then out into the hospitals of the world, with the help of the World Health Organization. Not only does the book document his own research, but implementations of similar strategies, from hugely complex construction projects to Walmart's highly organized approach when dealing with Hurricane Katrina.
Gawande references a 1970s essay by Samuel Gorovitz and Alasdair MacIntyre that boils down all situations to find the only two reasons for human dilemma:
"The first is ignorance – we may err because science has given us only a partial understanding of the world and how it works. There are skyscrapers we do not yet know how to build, snowstorms we cannot predict, heart attacks we still haven't learned how to stop.
The second type of failure the philosophers call ineptitude – because in these instances the knowledge exists, yet we fail to apply it correctly. This is the skyscraper that is built wrong and collapses, the snowstorm whose signs the meteorologist just plain missed, the stab wound from a weapon the doctors forgot to ask about."
Ignorance can be corrected by answering the question "what do I do?" and ineptitude with "how do I do it?". Checklists can solve both of these issues.