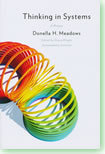 "Here's a helpful list of systems thinking books from the editor of The Systems Thinker news on Pegasus, a favorite blog spot I follow. Systems and change are married to each other in creating change that works.
________________________________
Reality will not be still. And it cannot be taken apart! ....Relationship is everything." ~ Marilyn Ferguson
________________________________
I have several of these and will probably be getting the e-editions of others from this great list.
"General Systems Theory, a related modern concept
[to holism],says that each variable in any system
interacts with the other variables
so thoroughly that cause and effect
cannot be separated.
A simple variable can be both cause and effect.
Reality will not be still. And it cannot be taken apart!
You cannot understand a cell, a rat, a brain structure,
a family, a culture if you isolate it from its context.
Relationship is everything."
- Marilyn Ferguson,
The Aquarian Conspiracy
A sample from her blog post:
She admits Russell Ackoff writings and Senge's new edition of The Fifth Discipline go without saying as great systems thinking classics. That said, her list includes:
Thinking in Systems: A Primer by Donella H. Meadows (Chelsea Green, 2008) Dana Meadows had a unique ability to take the mystery out of what can be perceived as overly complex concepts.
DN: I have this one and carry it around on my iPad everywhere, reminding myself when I get stuck how systems can be complex without being complicated.
Business Dynamics: Systems Thinking and Modeling for a Complex World by John Sterman (McGraw-Hill/Irwin, 2000) The core textbook for learning how to apply system dynamics modeling to complex organizational challenges. Even if you aren't interested in modeling per se, Sterman's clear, well-written explanations of the core elements of systems thinking make it worth a look.
Limits to Growth: The 30-Year Update by Donella Meadows, Jorgen Randers, and Dennis L. Meadows (Chelsea Green, 2004) The most recent version of the influential system dynamics analysis of the impact of a rapidly growing population in a world of finite resources.
She's also listed several good books for children including two books by a relative of a former neighbor of mind. Good stuff!
Read the full post here.