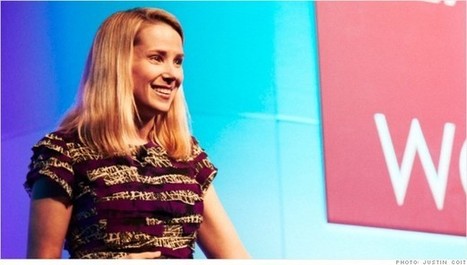 Mayer defended her decision by first acknowledging that "people are more productive when they're alone," and then stressed "but they're more collaborative and innovative when they're together. Some of the best ideas come from pulling two different ideas together."
The shift in policy affects roughly 200 of Yahoo's 12,000 employees.
As an example of that collaboration, Mayer touted the newly-launched Yahoo Weather app for iOS, which uses built-in geolocation technology in Flickr photo albums to help users get a more accurate image of local weather -- an idea, she explained, originated by two software engineers who work in the same office.
By using the image of a purple elephant in her presentation, Mayer poked fun at her own management gaffe, which, as Fortune's Pattie Sellers argued, wasn't the policy itself but how it was unveiled to the public.