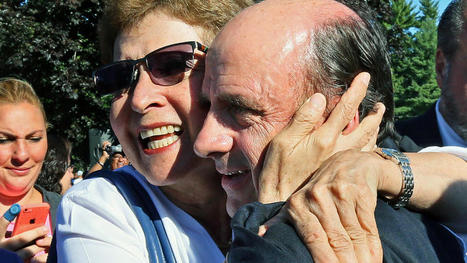 Boston Herald: TEWKSBURY, MA — Arthur T. Demoulas was reinstated as CEO late last night after a two-month standoff over his firing that saw rank-and-file workers walk off their jobs and customers jump to competitors in protest — thanked his workers this morning, hours after his historic purchase of the company.
______________
"You taught everybody that Market Basket is a place where respect, honor and dignity is a way of life." ~ Arthur T. Demoulas, reinstated CEO, Market Basket
______________
"You are simply the best," Demoulas said …There is very little I can ever add to your brilliant work…and the power of your enduring human spirit over the past six weeks."
Early this morning, a massive fleet of delivery trucks lined up ready to roll and hundreds of ecstatic employees reported to work for the first time in weeks....heralding the return of a boss they said had provided generous pay and benefits and a culture of respect for workers.
"You taught everybody that Market Basket is a place where respect, honor and dignity is a way of life," Demoulas told his workers. "You displayed your unwavering dedication and desire to protect the culture of your company...You have demonstrated that everyone has a purpose....that no one person holds a position of privilege."
The chain employs 25,000 workers in Massachusetts, Maine and New Hampshire. [It was worth] $4 billion before Arthur T.'s June 18 firing touched off a customer boycott and employee walkouts. [It] racked up millions in losses and shelves were left empty due to a halted supply chain.
Demoulas said he hopes to take less than two weeks getting shelves restocked and stores back to some semblance of normalcy.
Click the title or photo to see the full story.
Related posts by Deb:
Revelation, Leadership Integrity at All Levels
Company Priorities Reveal People Values and Forecast Long Term Profitability
6 Steps Beyond Industrial Age Performance Appraisals
Think like an Entrepreneur: Be Anti-Fragile No Matter Where You Work
Stay in touch with the monthly Best of the Best news, taken from Deb's 9 multi-gold award winning curation streams. Preview it

here,

via REVELN Tools.
Are you local to SE Michigan? Find out more about horse-guided leadership development sessions (no fee demos) for individuals by contacting Deb, after reviewing

her coaching page here.