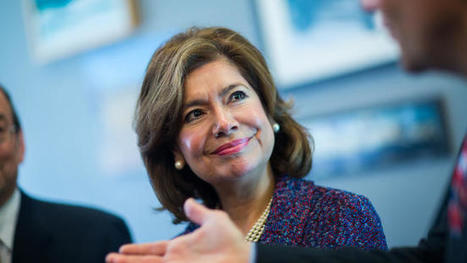 Contreras-Sweet is working to transform the SBA from a bureaucratic agency criticized for confusing loan programs into a modern, nimble resource for American entrepreneurs.
________________________

"I was the blind leading myself through....I wish that I understood that I had counselors available to me." Maria Contreras-Sweet, head of the U.S. Small Business Administration
________________________
Contreras-Sweet:
Came to the U.S. from Guadalajara, Mexico, at age 5
Rose through the corporate ranks at the 7UP/RC Bottling Co. to become a vice president
Helped found Hispanas Organized for Political Equality, a non-profit promoting political and economic opportunities for Latinas
Became the first Latina in a California state cabinet position as secretary of business, transportation and housing in 1999
Founded of Contreras Sweet Enterprises, a consulting company
Founded Fortius Holdings LLC, a venture capital firm, and

Her work in the SBA
Since taking office in April 2014, Contreras-Sweet has:
Focused on improving small-business owners' access to capital — one of the primary challenges entrepreneurs face
Extended a pre-existing policy that eliminates fees for SBA-guaranteed loans of $150,000 or less
Introduced LINC, an online matchmaking tool that pledges to connect businesses with SBA lenders within 48 hours, as well as SBA One, an automated lending platform that will roll out later in 2015. LINC and SBA One aim to increase the total number of SBA-guaranteed loans by making lenders easier to access and loan processing more efficient.
Contreras-Sweet says many businesses fail because they don't get counseling. ....much of her knowledge was built through trial and error as she started her own businesses. ...."I was the blind leading myself through this process," she says. "I wish that I understood that I had counselors available to me."


Related posts by Deb on Entrepreneurs, Leadership and Women in Business: