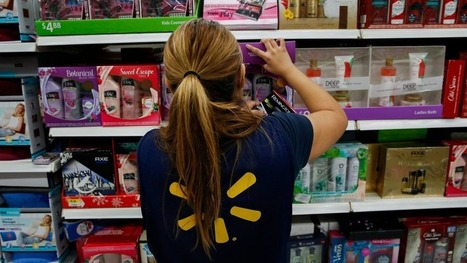 Walmart is planning to give 40% of its employees pay raises.
As part of its biggest investment in worker training and pay ever, Walmart told The Associated Press that within the next six months it will give raises to about 500,000 workers, or nearly 40% of its 1.3 million U.S. employees.

Walmart follows other retailers that have boosted hourly pay recently, but because it's the nation's largest private employer, the impact of its move will be more closely watched.

...At the same time, competition for retail workers is becoming increasingly stiff. As shoppers get more mobile savvy, retailers are seeking sales staff that's more skilled at customer service. But in the improving economy, the most desirable retail workers feel more confident in hopping from job to job.
Wal-Mart's plans [include]:

[Raise] entry level wages to at least $9 an hour in April and to at least $10 an hour by February of next year. ...Sam's Club locations will offer a starting hourly wage of at least $9.50 or higher in all markets, and at least $10.50 by next year.


Raise the floor and ceiling of its pay range for each position in most stores. For example, the pay range for cashiers is $7.65 to $16. The new range will be $9.00 to $17.55.


Raise the starting wage for some department managers to at least $13 an hour by this summer and at least $15 an hour by early next year.
As for all Scoops, click on the photo or title to see the full article.
Related change & performance posts by Deb: